Not Your Mama'sTM Stitching: The Cool and Creative Way to Stitch It To 'Em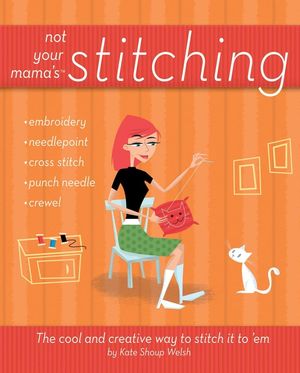 Not Your Mama'sTM Stitching: The Cool and Creative Way to Stitch It To 'Em
ISBN: 978-0-470-09516-4
Apr 2007
269 pages
Product not available for purchase
Description
Forget the fair young maiden painstakingly embroidering pillowcases for her hope chest. Picture a liberated lass (that would be you) creating chic fashions and accessories while sipping a glass of whatever and saving the planet. Not Your Mama's Stitching lets you choose from more than twenty projects to make or embellish home decor items, garments, accessories, gifts, and more.

It covers:
The tools and materials that no stitcher should be without
Basic stitching skills such as starting a thread, tying off, and finishing your piece
A myriad of embroidery, cross stitch, and needlepoint stitches
Projects ranging from a tattooed tank top to cheeky stitched sayings and from a Gucci-inspired wallet to a drinks recipe box
Variations and ideas for customizing every project
Make everyday items one-of-a-kind, or whip up your own creations from scratch. With a savvy, sassy attitude and fun, funky projects, Not Your Mama's Stitching will have you in stitches in no time.
Introduction: The Stitch Is Back.
Stitch Hunt.
How This Book Is Organized.
Who This Book Is For.
Part One: Basic Training.
Chapter One: Back Stitch to the Future.
Weave Are the World.
Ancient Chinese Secret.
Vestment Opportunity.
Women's Work, My Ass!
Urban Outfitter.
Read the Twine Print.
Free Samplers!
Gros Point Blank.
You Say You Want a Revolution.
The Agony of Effete.
Death and Threadsurrection.
Next!
Chapter Two: Talking Shop: What to Buy.
What You Talkin' 'Bout Willis?
Just Kitting.
Test Pattern.
Roll Your Own.
Meet the Needles!
Go Tell It on the Mounting.
Survival Tools.
Destination Organization.
Next!
Chapter Three: Technically Speaking: Needlework Techniques.
The Anal-Retentive Stitcher: Setting Up Your Work Environment.
Cut and Run: Preparing Your Materials.
Chart to Chart Chat: Understanding Needlework Charts.
Let's Get This Party Started.
Apocal-oops Now: Fixing Mistakes.
The Final Cut: Finishing Your Piece.
Next!
Chapter Four: Stitch Hitter: Your Guide to Cross-Stitch, Embroidery, and Needlepoint Stitches.
You Double-Crossing Stitch: Cross-Stitch Stitches.
Stitchin' Confidential: Embroidery Stitches.
Get to the Point: Needlepoint Stitches.
But Wait! There's More: Other Needlework Techniques.
Hand Job: Hand-Sewing Stitches.
Next!
Part Two: Projects.
Chapter Five: Wear Me Out: Stitching You CanWear.
Tie Me Up.
Tattoo You.
Hoodie Two Chews.
I Got My Eye On You.
Chapter Six: Yarn and Floss Accoutrements: Gussy Up Your Look with Stitching.
You're So Money.
I'll Stop the World and Belt with You.
Felt Up.
Chuck Berries.
British Invasion.
Germ Warfare.
The Diet of Worms.
Laptop Dance.
Chapter Seven: Canvas the Area: Needlework for the Home.
You Bore Me.
Cue the Violins.
We Got Spirits, Yes We Do!
Wash Your Damn Hands!
Case in Point.
Coffee, Tea, or Me?
The 25,000-Calorie Pyramid.
Chapter Eight: Present Tents: Nifty Needlecraft Gifts.
Who's the Boss?
Sweet Emoticon.
It's All Geek to Me.
Anklebiter.
You Reek.
Designer Bios.
Index.