Novel Vaccination Strategies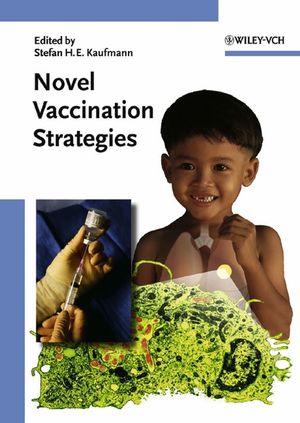 Novel Vaccination Strategies
ISBN: 978-3-527-60144-8
Apr 2004
200 pages
Description
The protection mode of most available vaccines is based on antibody responses. Since efficient immune responses to many pathogens rely on activating all arms of the immune system, traditional vaccine development does not provide efficient protection against many diseases. Novel vaccination strategies need to allow presentation of antigens that activate the full array of the immune response in the right composition and should prevent pathogen entry by mobilizing the mucosal immune response. New technological advances optimize the immunogenicity of 'live' and sub-unit vaccines.
This book offers an interdisciplinary overview on research and future strategies for rational vaccine
design based on recent developments in molecular biology and immunology. It covers new aspects of the immunological interplay between prokaryotic and eukaryotic systems as well as achievements in the development of novel vaccine candidates.
Chapters on edible vaccines, on vaccines against bioterror agents and on economical and safety aspects of novel vaccine development round off this title.

PART I
Preface
Introduction: Challenges for the vaccine developer, including correlates of protection

PART II
VACCINATION AND IMMUNE RESPONSE
Shaping adaptive immunity against pathogens: the contribution of innate immune responses
Adjuvant induced Th2 and Th1 dominated immune responses in vaccination
Memory
T-cell based vaccines

PART III
ADJUVANTS
Microbial adjuvants
Host derived adjuvants
Microparticles as vaccine adjuvants and delivery systems
Liposomes and ISCOMs
Virosomal technology and mucosal adjuvants

PART IV
CLASSICAL AND NOVEL VACCINATION STRATEGIES: A COMPARISON
Classical bacterial vaccines
Subunit vaccines and toxoids
Engineering virus vectors for subunit vaccines
Update on antiviral DNA vaccine research (2000-2003)
Live recombinant bacterial vaccines
Mucosal vaccination
Passive vaccination and antidotes: A novel strategy for generation of wide-spectrum protective antibodies
Plant-based oral vaccines
Virus-like particles: Combining innate and adaptive immunity for effective vaccination

PART V
VACCINES FOR SPECIFIC TARGETS
Helicobacter pylori
Tuberculosis: Novel vaccination strategies against tuberculosis
Rationale for malaria vaccine development
HIV
Vaccines against bioterror agents

Part VI
VACCINES IN THE REAL WORLD: SAFETY, COST-EFFICIENCY AND IMPACT OF VACCINATION
Imperfect vaccines and the evolution of pathogen virulence
Cost-effectiveness of vaccinations
Immunological safety of vaccines: facts, hypothesis and allegations

Index
""...enjoyed reading the book immensely, found it very informative and a good mixture of basic and applied science...definitely recommended...""

Immunology News, August 2004

""This would be a valuable text for those in the field with the expertise.""

E-STREAMS, October 2004

""This book thoroughly reviews our understanding of the immunologic response to infectious diseases and the many advances in the development of vaccines...Stefan Kaufmann, who is the founding director of the Max Planck Institute for Infection Biology in Berlin, has brought together a group of experts in various fields of vaccinology from Europe, the United States, and Australia for this challenging project. Immunologists, developers of vaccines, clinical-trial specialists, and molecular biologists will find this book to be of interest...An outstanding section of the book is dedicated to adjuvants and vaccine vectors...I recommend this book to microbiologists, epidemiologists, and practitioners who administer vaccines. Indeed, reading the chapter...is fascinating for all specialists.""

New England Journal of Medicine, November 4, 2004

""The presentations are concise, clear, well illustrated, and provide an excellent survey of the subject overall.""
IEEE Engineering in Medicine and Biology, Jan/Feb 2005

""Dr. Kaufmann and eminent contributors, with their outstanding expertise, created an excellent resource for medical professionals and biomedical scientists.""
Annals of Biomedical Engineering, December 2004