Nuclear Magnetic Resonance: Concepts and Methods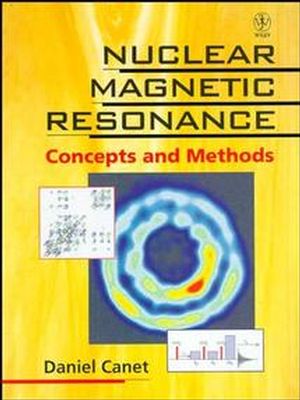 Nuclear Magnetic Resonance: Concepts and Methods
ISBN: 978-0-471-96145-1 July 1996 270 Pages
Description
Emphasizes the physical and mathematical features of liquid state NMR spectroscopy which underpin the numerous important applications of the technique. Details of some of these applications, such as structural determination from small organic molecules to large biomolecules, the study of molecular motions and NMR imaging then follow. Detailed examples and figures throughout the text enable the student to grasp conceptually challenging ideas, while the most advanced mathematical and quantum concepts are presented so that they can be skipped on a first reading without impeding a global understanding of the key concepts.
Structure of Nuclear Magnetic Resonance Spectra.

Basic Mathematics and Physics of NMR.

Fourier Transform NMR and Data Processing.

Dynamic Phenomena in NMR.

Multipulse and Multidimensional NMR.

Index.