Nuevos mundos: Curso de espanol para bilingues, 3rd Edition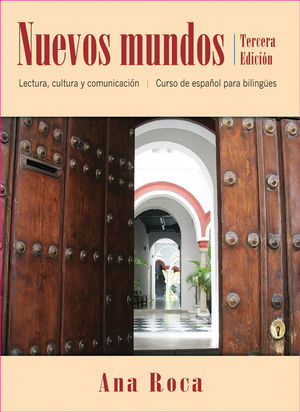 Nuevos mundos: Curso de espanol para bilingues, 3rd Edition
ISBN: 978-0-470-91392-5 January 2012 432 Pages
Description
This book develops the communication and literacy skills of heritage Spanish speakers with exercises that are designed to improve oral and written proficiency in the language. Nuevos mundos uses the cultures and voices of the major Hispanic groups in the United States, as well as those of Latin America and Spain, to familiarize students with a variety of issues and topics, which are sometimes controversial and always thought-provoking.
Capítulo Uno: La presencia hispana en los Estados Unidos.
Capítulo Dos: Los mexicanoamericanos, centroamericanos y otros latinoamericanos.
Capítulo Tres: Los puertorriqueños.
Capítulo Cuatro: Los cubanos y cubanoamericanos.
Capítulo Cinco: La herencia multicultural de España.
Capítulo Seis: Los derechos humanos.
Capítulo Siete: La mujer y la cultura.
Capítulo Ocho: Cruzando puentes: el poder de la palabra, la imagen y la música.
Apéndices.
New readings and activities
Updated opener essays and end-of-chapter resources
New intergenerational individual and group projects
Updated Apéndices
High-interest topics serve as a springboard for discussion and writing assignments.
The first four chapters emphasize U.S. Latino heritage, culture, and society-at-large, treating topics such as immigration, the Latinization of the United States, brief historical notes, and other topics to which students can easily relate.
Numerous opportunities are available for individual and group work, and class participation
Cultural awareness is promoted through community involvement, independent study, research projects, and Internet activities.
Cooperative learning and a content-based approach help students learn more about the diversity of Hispanic cultures and improve their oral proficiency.
A supplementary Unos pasos más: Fuentes y recursos section provides resources for additional reading and suggestions for feature and documentary films that can be used for individual and group projects related to chapter topics.