Nursing Care of Children and Young People with Chronic Illness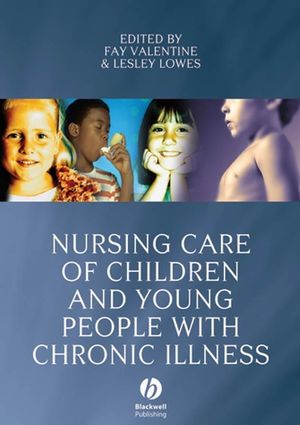 Nursing Care of Children and Young People with Chronic Illness
ISBN: 978-1-405-14402-5 October 2007 Wiley-Blackwell 280 Pages
Description
Children and young people suffering from long-term conditions require continuing support and nursing care throughout their lives. Nursing Care of Children and Young People with Chronic Illness explores chronic disease management in the context of recent developments, including the National Service Framework for Children. It addresses the aetiology of chronic illness and the impact on the child's family. It also explores holistic approaches to caring for their social, physical and psychological needs, and highlights the importance of the nurse's role in promoting children and their parents as 'expert patients'.


Nursing Care of Children and Young People with Chronic Illness is a comprehensive, up-to-date resource for nursing students and practitioners on the context, theory and practice of assessing health needs, and the delivery of holistic care and services within a variety of care settings, to enable them to meet the changing needs of children and young people with chronic illnesses and diseases, and their families.



The first nursing-specific text related to the care of children & young people with chronic illness


Incorporates case studies & scenarios throughout to enable readers to gain an understanding of the application of concepts & theories in practice


Covers care aspects of the child and young person in different settings including tertiary, secondary, primary health care and the home


Written in the context of the NSF for Children
1 The Definition and Aetiology of Chronic Illness.
Fay Valentine & Suzanne Hazell.
2 Context of Care and Service Delivery.
Fay Valentine & Peter Mcnee.
3 Impact upon the Child and Family.
Lesley Lowes.
4 An Holistic Approach to Meeting Physical, Social and Psychological Needs.
Julia Tod & Beverly Hodges.
5 Empowering Children, Young People and their Families.
Mandy Brimble.
6 Ethical Issues.
Peter Mcnee & Maggie Furness.
7 Continuing Care Needs.
Melda Price & Sian Thomas.
8 Acute Emergencies.
Peter Mcnee & Martina Nathan.
9 Adolescence.
Sian Bill & Yvonne Knight.
10 Transitional Care.
Sian Bill & Beverly Hodges
'This is an invaluable source of information about differing perspectives in chronic illness for those working in primary or secondary care. It is also recommended for those undertaking pre-qualifying and post-qualifying children's nursing courses. It is an essential read for practitioners at a reasonable price.'
Nursing Standard, vol 22, November 2007
● The first nursing-specific text related to the care of children and young people with chronic illness
● Incorporates case studies and scenarios throughout to enable readers to gain an understanding of the application of concepts and theories in practice
● Covers care aspects of the child and young person in different settings including tertiary, secondary, primary health care and the home
● Written in the context of the NSF for Children