Nursing in Care Homes, 2nd Edition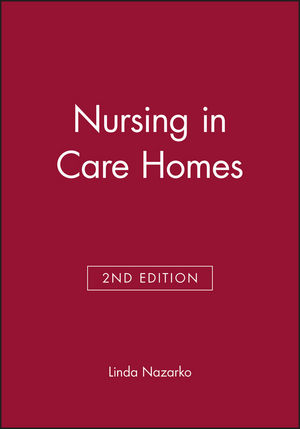 Nursing in Care Homes, 2nd Edition
ISBN: 978-1-405-15185-6
Feb 2009, Wiley-Blackwell
416 pages
Description
Nursing in Care Homes is a practical guide for nurses of all levels working in care homes. It is directly relevant to everyday practice and covers clinical issues such as continence care, wound care, infection control, and nutrition, as well as information on a wide range of issues including legal requirements, care home standards, and liasing with social and health care services. The revised and updated second edition includes new chapters on maximising abilities, risk management, stroke, and diabetes and calls upon the recommendations of the National Service Framework for Older People and the requirements of the Care Standards Act (2002).


Concise and easy to follow, Nursing in Care Homes is an essential guide to skilled professional care for all nurses in care homes. It will also be invaluable to nursing students undertaking their placements in care homes.
The legal framework; Assessing and funding care; Confusion; Medication management; Infection control; Wound care; Continence; Management of incontinence; Risk Management; Preventing pressure sores; Nutrition; Stroke; Accessing services; Palliative Care; Diabetes; Respite care; Rehabilitation; Maximising abilities; The way forward ; Index
Review of First Edition:
"Linda Nazarko's book focuses specifically on the care of the older person in the nursing home environment (and) is designed to be used as a guide in everyday
practice." Professional Nurse
" 'Nursing in Nursing Homes' ought to be prominently displayed at the nurses' station in every nursing home...The content is written with a simplicity and sensitivity that renders it both readable and memorable" Nursing Standard

Review of Second Edition:

For me, the most user friendly book I have read this month is Nursing in Care Homes by Linda Nazarko. This book is probably as useful to those nurses in primary care trusts, who are working increasingly with nursing home nurses, as it is for nursing home nurses themselves.
* fully revised and updated in light of recent legislation, and changes in primary care, funding and assessment
* focuses on nurse-led care
* a practical guide to everyday practice in care homes with an emphasis on skilled professional care
*emphasises best practice in light of the National Service Framework for Older People, the Care Standards Act (2002) and national Required Standards
*includes new chapters on maximising abilities, risk management, stroke, and diabetes