Nursing the Highly Dependent Child or Infant: A Manual of Care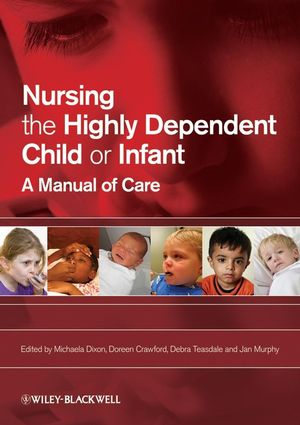 Nursing the Highly Dependent Child or Infant: A Manual of Care
ISBN: 978-1-444-30954-6 March 2009 Wiley-Blackwell 360 Pages
Description
Nursing the Highly Dependent Infant or Child is an accessible and clinical guide to the caring for the acutely ill child. It provides guidance on the specific nursing skills required to care for children and infants who require a 'step up' level of care from those on the general paediatric ward or a 'step down' level of care on discharge from neonatal or paediatric critical care facilities.





The book follows a general systems approach, covering themes such as respiratory care, renal care and cardiac care as well as covering specialities such as neuro-trauma, burns and transportation of the acutely ill infant or child. Other areas explored include pain and sedation, monitoring and meeting the nutritional needs of the highly dependent child. Each chapter provides an overview of relevant anatomy and physiology, guidance on assessment and monitoring, and outlines effective nursing care and management guidance of common conditions encountered in acute children's care.
List of contributors.
1 Introduction to paediatric high dependency care (Colin M. Way and Doreen Crawford).
2 Physiological monitoring (Debra Teasdale).
3 Respiratory (Caroline Haines).
4 Cardiac (Sandra Batcheler and Michaela Dixon).
5 Caring for a highly dependent child with fluid, electrolyte and nutritional requirements (Jill Cochrane, Doreen Crawford, Michaela Dixon and Janet Murphy).
6 The child with acute neurological dysfunction (Michaela Dixon and Janet Murphy).
7 Care of a child with a hepatic or metabolic disease (Graham Gordon, Doreen Crawford, Debra Teasdale and Michaela Dixon).
8 Renal (Kathryn Summers and Debra Teasdale).
9 Children who need management of pain and sedation (Doreen Crawford and Sarah Roberts).
10 Care of the child with a burn injury (Jane Leaver and Clare Thomas).
11 Infection and infection control (Katie Anderson, Felix Hay and Doreen Crawford).
12 Care of the child with haematological and oncological conditions (Karen Selwood, Michelle Wright and Doreen Crawford).
13 Play for the infant and child in the high dependency unit (Tina Clegg).
14 Transportation of the acutely ill child (Michaela Dixon, Marian Perrott and Gill West).
15 Ongoing care and management (Janet Murphy, Doreen Crawford and Michaela Dixon).
Appendix 1.
Appendix 2.
Appendix 3.
References, further reading and resources.
Useful websites.
Index.
"Overall, good value for money and it will appeal to those who work in high dependency unit areas at any grade. Nursing students will also find the contents invaluable to support their specialist learning experience. Those working general children's wards will also benefit from the aspects of this book which will make an ideal reference copy." (Paediatric Nursing, February 2009)


Edited by the committee members of the RCN Paediatric and Neonatal Intensive Care Nurses Forum

Timely: The first UK text in the field to focus on high dependency care of the child.

User-friendly and accessible

Contains evidence-based guidelines for effective nursing care