Nursing the Neonate, 2nd Edition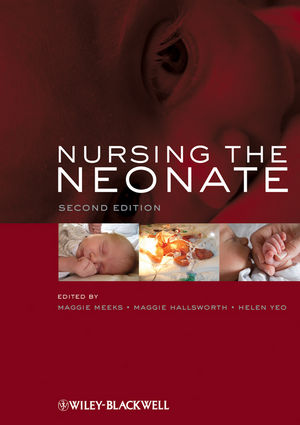 Nursing the Neonate, 2nd Edition
ISBN: 978-1-118-31096-0
Dec 2014, Wiley-Blackwell
376 pages
Description
Written by a multidisciplinary team of medical and nursing experts, this fully-updated second edition provides evidence-based coverage of all frequently seen neonatal conditions. Divided into chapters based on body-systems, each section includes discussion of relevant embryology, anatomy and physiology. 



Designed for real-life practice in the ward, each chapter includes clear guidelines for procedure and discussion of best practice. Case studies are used throughout to aid discussion of specific equipment, conditions, and situations.

An essential resource for neonatal nursing and midwifery students, as well as practicing neonatal nurses, this acclaimed text may also be of use to junior doctors beginning neonatology.
Evidence-based theory clearly linked to application in the ward with case studies throughout
Procedure and equipment guidelines included, with specific recommendations for practice
Accessible format designed for easy reading and reference
Highly illustrated with relevant diagrams and pictures

Preface.
Introduction.
Contributors.
Chapter 1 The Evolution of Neonatal Care (David Field and Andy Leslie).
Chapter 2 Obstetric Issues Relating to Neonatal Care Belinda Ackerman and Sonji Clarke).
Chapter 3 Normal Adaptation to the Post-Natal Environment  (Maggie Meeks and Maggie Hallsworth).
Chapter 4 The Neonatal Environment and Care of Families (Kevin Hugill, with contributions from ADAPT).
Chapter 5 The Small Baby (Maggie Meeks and Jonathan Cusack).
Chapter 6 Thermoregulation 
Maggie Hallsworth
Chapter 7 Fluids, Electrolytes and Glucose 
Elaine Boyle
Chapter 8 Respiratory Diffi culties and Ventilatory Support  (Venkatesh Kairamkonda).
Chapter 9 Neonatal Surgery  (Shawqui Nour and Maggie Hallsworth).
Chapter 10 Congenital Conditions (Mandy Barry).
Chapter 11 Nursing Newborn Babies with Congenital Heart Disease (Frances Bu'Lock, Andrew Currie and Venkatesh Kairamkonda).
Chapter 12 Nutrition of the Term and Preterm Infant  (Lucy Hawkes and Michelle Paterson).
Chapter 13 Neonatal Stabilisation and Transport  (Robert Bomont and Linda Rafael).
Chapter 14 Neonatal Neurology  (Eleri Adams and Marie Hubbard).
Chapter 15 The Dying Infant  (Zoe Wilkes and Maggie Hallsworth).
Chapter 16 Infection in the Term and Preterm Infant  (Alison Bedford Russell).
Chapter 17 Haematology in the Term and Preterm Neonate  (Tim Watts, Karissa Jowaheer and Ping Corcoran).
Chapter 18 Developmental Care  (Inga Warren).
Chapter 19 Neonatal Ethics  (John Wyatt).
Chapter 20 Discharge Planning and the Community Outreach Service (Sylvia Gomes).
Index.
"It explains the most complex facts clearly.  Each chapter is introduced with learning outcomes, and illustrations are used to highlight essential information.  Specific implications for practice are detailed after each topic.  All neonatal units should have a copy of this excellent resource. (
Nursing Standard,
July-August 2010)
"This well structured, comprehensive book was written by [doctors and] nurses for nursing and midwifery students as well as practising neonatal nurses...Easy to read and well illustrated...I would recommend this book whole heartedly...a valuable addition to any neonatal unit and healthcare library."
-- Journal of Neonatal Nursing
This comprehensive text covers all aspects of neonatal nursing...Research–based, Nursing the Neonate includes references to the most up–to–date research and practice...Would make an excellent resource book for health professionals within this speciality."
--New Zealand College of midwives journal
• Evidence-based theory clearly linked to application in the ward with case studies throughout
• Procedure and equipment guidelines included, with specific recommendations for practice
• Accessible format designed for easy reading and reference
• Highly illustrated with relevant diagrams and pictures