NutriSystem Nourish: The Revolutionary New Weight-Loss Program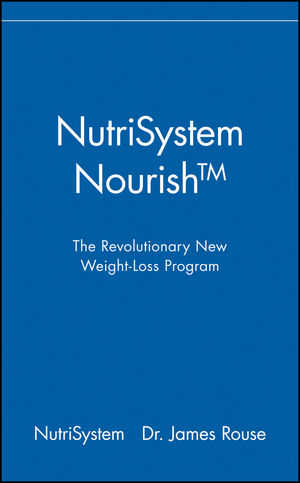 NutriSystem Nourish: The Revolutionary New Weight-Loss Program
ISBN: 978-0-471-67132-9 September 2004 272 Pages
Description
"Don't waste time contemplating whether or not this program could work for you. Trust me - it will work! Take this from someone who has struggled for the last 10 years and finally lost the weight. If I knew I could lose weight so easily and quickly I would have tried NutriSystem sooner!"
-Zora Andrich, reality TV star
lost 20 lbs. in two months (results not typical)

The highly anticipated companion book to NutriSystem?? Nourish?TM, the breakthrough weight-loss program

Do you want to lose weight and not feel hungry? Would you like to find a way to drop unwanted pounds that actually fits into your lifestyle? Welcome to NutriSystem Nourish, the integrated program that lets you put the past behind you and gives you the tools you need to start losing weight right now! The NutriSystem Nourish program is designed to work-offering real solutions for busy lifestyles and making your metabolism function at its highest level to yield breakthrough weight-loss results. Based on the latest dieting and nutritional research, NutriSystem Nourish is the Good Carb Answer?TM.
* Can help you lose weight because it's the Good Carb Answer?TM that's rich in good carbs, yet still low in fat
* Features 28 days of simple and practical meal plans, 4 weeks of exercise plans, and 75 delicious recipes
* Incorporates easy movement and exercise tips, fast relaxation tools, positive thinking, and inspiration, as well as optional prepared meals
* Packed with weight-loss tips and techniques, sidebars, and mental exercises designed to increase your weight-loss success!
Acknowledgments.
Introduction.     
PART I: NOURISHING WEIGHT LOSS. 
1. Food is Fuel for Life; Nourish to Flourish.
2. Tuning Your Metabolic Machinery; Fixing A Slow Metabolism.
3.  Mind Over Matter; Losing Weight without Losing Your Mind. 
4. Relax Your Mind, Shrink Your Behind; The Stress/Fat Connection.
PART II: NOURISHING MEAL PLANS.
5. The NutriSystem Nourish Meal Plans; Step-by-Step Meal Plan Options.
PART III: NOURISHING MOVEMENT.
6. Move It to Lose It; You Choose - Xercise or Xtra-size.
7. The NutriSystem Nourish Exercise Plan; Your Choose To Move Plan.
PART IV: NOURISHING SUCCESS.
8. Steps To Success; Resolve to Evolve.
PART V: NOURISHING RECIPES. 
9. The NutriSystem Nourish Recipes.    
Appendix: Glycemic Index Chart.
Index.