Nutrition: Everyday Choices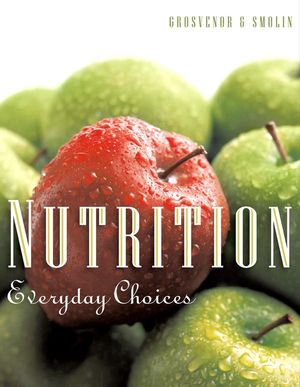 Nutrition: Everyday Choices
ISBN: 978-0-471-66876-3
Feb 2005
672 pages
Product not available for purchase
Description
Nutrition: Everyday Choices provides students with the decision-making skills needed throughout their lifespan to navigate the myriad of choices they will face in promoting their good health and in preventing disease.  A critical thinking approach and a solid underpinning of the process of science empowers students to be knowledgeable consumers when faced with diverse information about emerging diseases such a SARS, biotech foods and gene therapy.  As students apply the thought processes and decision-making skills learned throughout the course, they come to understand that there are not "good" foods and "bad" foods, but rather that each choice is only part of an overall healthy diet and that it is the sum of those choices that determines good nutrition.

Original Price:$231.90
Purchased Together:$210.95
save $20.95
Chapter 1. Nutrition: Choices for Health.
Chapter 2. Guidelines for a Healthy Diet.
Chapter 3. The Digestive System: From Meals to Molecules.
Chapter 4. Carbohydrates: Sugars, Starches, and Fibers.
Chapter 5. Lipids: Fats and Oils.
Chapter 6. Proteins and Amino Acids.
Chapter 7. Managing Your Weight.
Chapter 8. The Vitamins.
Chapter 9. Water and Minerals.
Chapter 10. Meeting Our Needs: Food, Fortified Food, and Supplements.
Chapter 11. Nutrition, Fitness, and Physical Activity.
Chapter 12. Nutrition, Pregnancy, and Infants.
Chapter 13. Nutrition from 2 to 102.
Chapter 14. How Safe Is Our Food Supply?
Chapter 15. Feeding the World.
Appendices.
Glossary.
Index.
· A theme of choice, with an emphasis on critical thinking, helps students analyze the nutritional information that they encounter every day and to apply it to their own diet. This is highlighted in the Piecing It Together and Thinking For Yourself exercises in each chapter. The interaction of nutrition, health, and disease is integrated throughout chapter discussions, rather than being boxed or set apart.
· Chapter Openers include excerpts on current and relevant nutritional topics from recent newspapers or magazines.  In addition, Just a Taste, is a feature that consists of 3 or 4 intriguing questions, motivating students to read the chapter to discover the answers.
· Life Stages icons in the margins highlight the effects of nutritional choices during different stages of development, integrating this information into the topic at hand.  For example, a Life Stage icon in the chapter on protein points out the discussion of the increased protein needs of children.
· Diet Planning Tools –such as the Food Guide Pyramid, Dietary Guidelines, and food labeling information -- is discussed throughout to help students learn how to make wise nutrition choices.
· Your Choice boxes address nutrition issues related to products that consumers might purchase off the shelf, such as dietary supplements.
· Off The Label boxes help students use food labels to make wise choices regarding what foods to buy and eat.
· So, What Should I Eat boxes include a list of specific foods to help students translate the information found in the chapter into simple tips on what they should actually eat. 
· Metabolism discussions are appropriate to the level of the text.  A basic understanding of how nutrients work in the body is essential to really understanding the concepts of nutrition. Everyday Choices includes basic metabolism information presented in an easy to understand and consistent way.  All basic concepts about metabolism as well as other physiological processes will be presented with simplified art that reinforces these difficult concepts. 
· Separate Chapter on Meeting Nutrient Needs: Food, Functional Foods, and Dietary Supplements: In today's food marketplace we get nutrients from natural foods, from food fortified with a variety of substances, and from dietary supplements.  This chapter discusses the benefits of plain old food and food that has had nutrients and other substances added to it, the role of vitamin and mineral supplements in meeting needs, and the role of supplements that are not nutrients, including herbal supplements. In addition to the information provided in this chapter, discussions of dietary supplements is integrated throughout the text with each nutrient and with applicable topics such as weight loss, exercise, and aging. A risk benefit approach is taken in all discussions to show students how to make safe and valid decisions regarding the use of supplements.
· Design and Illustration Program: The authors have taken exceptional care in developing an illustration program for this text to ensure that it reflects the level of the content and the consumer-oriented focus. The artwork is consistent throughout in its style and use of color.  For example a color or symbol that is used to indicate a nutrient or chemical group in one figure will have the same meaning in subsequent figures.  This will allow students to immediately recognize certain features of the art making it easier and faster to understand subsequent art and the concepts they illustrate.
·       Available with
Wiley
PLUS! 
Wiley
PLUS is a powerful online tool that provides instructors with an integrated suite of teaching and learning resources, including an online version of the text, in one easy-to-use website.  Organized around the essential activities you perform in class,
Wiley
PLUS allows you to create class presentations, assign homework and quizzes that will be automatically graded, and track your students' progress.   The system links homework problems to the relevant section of the online text, providing students with context-sensitive help.  View a demo and learn more about
Wiley
PLUS by visiting
www.wiley.com/college/wileyplus