Nutrition: Science and Applications, 3rd Edition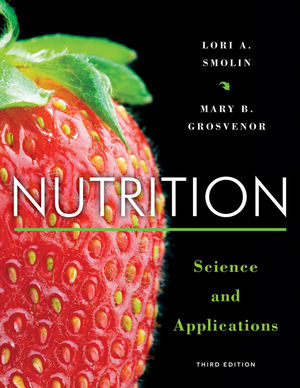 Nutrition: Science and Applications, 3rd Edition
Description
Nutrition: Science and Applications, 3e helps develop the scientific understanding to support personal and professional decisions. Using a critical thinking approach, Smolin brings nutrition out of the classroom and allows students to apply the logic of science to their own nutrition concerns – both as consumers and as future scientists and health professionals. The text has been developed through a collaboration between the authors and the Nutrition Advisory Board, a team of dedicated nutrition instructors who help review and develop all of Wiley's nutrition resources.
Orion Adaptive: Based on cognitive science, ORION provides students with a personal, adaptive learning experience so they can build their proficiency on topics and use their study time most effectively.
Updated with MyPlate: Completely updated to include all of the latest dietary recommendations and guidelines from the USDA. This includes all Myplate information. (choosemyplate.gov)
New Feature – Debate: This unique feature examines key nutritional discussions in the news today. It provides readers with information on 2 sides of a controversial issue, so they can come to their own conclusions concerning the topic.
New Focus on Metabolism: a fully illustrated online appendix that serves as a summary of metabolism information that students have learned in the textbook.
Develop Scientific Understanding. Nutrition: Science and Applications, 3e equips students with the resources they need to understand challenging concepts.
Metabolism. This concept is presented via an integrated approach making it more accessible to students. We integrate metabolism because we believe that it is more effective to cover metabolism when it appears germane to the topic. Metabolism is introduced in Chapter 3: Digestion, Absorption, and Metabolism. It is then carried out through the rest of the book. By incorporating both metabolism, and health and disease information throughout the text, students can see that a nutrient's function in metabolism is related to its role in health and disease.
Metabolism Icons. These iconsare integrated throughout the text. They allow for easy identification of where metabolism information has been integrated into each chapter.
Science Applied. These boxed features included in each chapter focus on nutrition research studies that have led to discoveries key to our current understanding of nutrition. These boxes help students appreciate how research is done as well as expose them to the rich, colorful history of nutrition.
Process Diagrams. To help students better understand key concepts, the authors have developed stepped out process diagrams that use the same diagram to add new information as it is introduced. This is used most often in metabolism figures to help students reduce this often intimidating topic to a series of easy-to-follow steps.
Chapter Opening Case Studies. Each chapter is introduced with a short case study. These relevant health- and disease-oriented cases help capture student interest and provide a taste of some of the concepts that will be explained in the chapter. Intriguing and fun to read introductions help students recognize how the material in the chapter applies to everyday health and disease issues. This case is revisited in an Outcome section at chapters' end, helping students draw conclusions to thoroughly make a connection between the science learned and its application.
Critical Thinking Exercises. These unique exercises help students learn to apply their nutrition knowledge to everyday situations by presenting a nutrition-related problem and then showing the student the logical progression of thought needed to collect information and solve the problem.
WileyPLUS is a research-based online environment for effective teaching and learning. WileyPLUS is packed with interactive study tools and resources–including the complete online textbook–to give your students more value for their money. With WileyPLUS, students will succeed in nutrition.
WileyPLUS is now equipped with an adaptive learning module called ORION. Based on cognitive science, WileyPLUS with ORION, provides students with a personal, adaptive learning experience so they can build their proficiency on topics and use their study time most effectively. WileyPLUS with ORION helps students learn by learning about them.