Nutrition and Cancer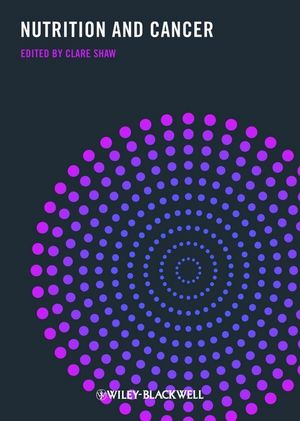 Nutrition and Cancer
ISBN: 978-1-444-32930-8 November 2010 Wiley-Blackwell 416 Pages
Description
Nutrition plays a crucial role in supporting patients receiving treatment for cancer. Carefully considered nutritional options can help to manage patients with weight loss and cachexia, support the patient's ability to recover from surgery and cope with treatments such as chemotherapy and radiotherapy. Patients living with and beyond cancer can also benefit from advice on optimal nutrition and lifestyle changes.

Edited by Dr Clare Shaw, Consultant Dietitian at The Royal Marsden NHS Foundation Trust, Nutrition and Cancer takes an unrivalled look at this prevalent disease, offering the reader:
An insight into the nutritional challenges faced for patients with cancer
A practical guide to nutrition and dietetic practice in cancer care
A detailed look at nutritional options for different diagnostic groups
Contributions from a wide range of cancer specialists
An excellent resource for dietitians, clinical nutritionists, doctors, nurses and other health professionals working with cancer patients, this book is also a fascinating reference for students and researchers with an interest in the area.
Contributors.
Preface.
1 Cancer in the twenty-first century (Natalie Doyle and Clare Shaw).
2 Cancer and nutritional status (Alessandro Laviano, Isabella Preziosa and Filippo Rossi Fanelli).
3 Treatment of cancer (Sanjay Popat).
4 Effect of malnutrition on cancer patients (Louise Henry).
5 Nutrition screening(Sian Lewis).
6 Nutritional requirements of patients with cancer (C. Elizabeth Weekes).
7 The psychosocial influences of food choices made by cancer patients(Lucy Eldridge).
8 Nutritional support for the cancer patient (Clare Shaw and Jane Power).
9 Late effects of cancer treatment in adult patients(Jervoise Andreyev).
10 Nutrition and palliative care (Clare Shaw).
11 Head and neck cancer(Bella Talwar).
12 Nutrition in upper gastrointestinal cancer (Saira Chowdhury and Orla Hynes).
13 Cancers of the lower gastrointestinal tract 255 (Jane Power).
14 Gynaecological cancer (Mhairi Donald).
15 Haemato-oncology (Gayle Black).
16 Paediatric oncology (Evelyn Ward).
17 Nutrition and breast cancer (Barbara Parry).
18 Nutritional management in prostate cancer (Kathryn Parr).
19 Lung cancer (Cherry Vickery).
Index.
""This is a thoroughly researched and detailed guide for clinicians on the range of nutrition-related problems in cancer patients and appropriate interventions.  It is comparable to Nutritional Issues in Cancer Care, Kogut and Luthringer (Oncology Nursing Society, 2005), but it is more comprehensive and up to date."" (Doody's, 26 August 2011)