Nutrition and Chemical Toxicity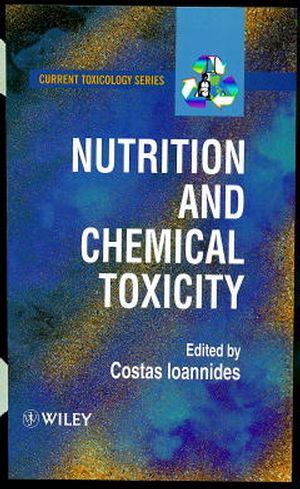 Nutrition and Chemical Toxicity
ISBN: 978-0-471-97453-6
Nov 1998
400 pages
Description
Current Toxicology Series Series Editors Diana Anderson BIBRA Toxicology International, Surrey, UK Michael D Waters Consultant, Chapel Hill, NC, USA Timothy C Marrs Department of Health, London, UK Nutrition and Chemical Toxicity Edited by Costas Ioannides, University of Surrey, Guildford, UK An enormous amount of research is currently devoted to evaluating the role of nutrition in the aetiology of major human diseases and to clarifying the underlying mechanisms. This resurgent interest reflects the realisation that carcinogens may be generated during the normal cooking of food and that they may play a role in human carcinogenesis. Moreover, during the last decade it has become apparent that naturally occurring chemicals in food, primarily of plant origin, can afford effective protection against human cancer and heart disease. As a result, the need for up-to-date information in this subject area has never been greater. Nutrition and Chemical Toxicity deals in depth with the various toxicants found in food including naturally occurring chemicals, fungal contaminants, products of the cooking process and allergens. Other chapters focus on nutritional modulation of cytochromes P450; interactions between drugs and diet; glutathione, sulphur aminoacids and chemical detoxication; modulation of the carcinogenic response by caloric restriction; and lipotropes and chemical carcinogenesis. Further contributions discuss the expression of chemical toxicity in vitamin deficiency and supplementation; safety evaluation of vitamins and minerals; naturally occurring organosulphur compounds as potential anticarcinogens; cancer chemoprevention by tea polyphenols; and animal diets in safety evaluation studies. This timely book is essential reading for professionals involved in cancer research and the safety evaluation of chemicals, food scientists and toxicologists, nutritionists and those involved with food regulation.
Toxicants in Food: Naturally Occurring (H. Mori, et al.).

Toxicants in Food: Fungal Contaminants (J.-S. Wang, et al.).

Toxicants in Food: Generated During Cooking (K. Skog & M. Jägerstad).

Toxicants in Food: Food Allergens (G. Reese & S. Lehrer).

Nutritional Modulation of Cytochromes P450 (C. Ioannides).

Interactions between Drugs and Diet (J. Thomas, et al.).

Glutathione, Sulphur Amino Acids and Chemical Detoxication (T. Bray, et al.).

Modulation of the Carcinogenic Response by Caloric Restriction (A. Turturro, et al.).

Lipotropes and Chemical Carcinogenesis (E. Farber & A. Ghoshal).

Expression of Chemical Toxicity in Vitamin Deficiency and Supplementation (G. Williamson).

Safety Evaluation of Vitamins and Minerals (J. Hathcock).

Naturally Occurring Organosulphur Compounds as Potential Anticarcinogens (H. Mori & A. Nishikawa).

Cancer Chemoprevention by Tea Polyphenols (N. Ahmad, et al.).

Animal Diets in Safety Evaluation Studies (G. Rao & J. Knapka).

Index.
"The book is a well structured reference source for nutritional toxicologists, with many clear and concise diagrams, and a comprehensive bibliography at the end of each chapter." (British Toxicology Society Newsletter)