Nutrition and HIV: A New Model for Treatment, Revised and Updated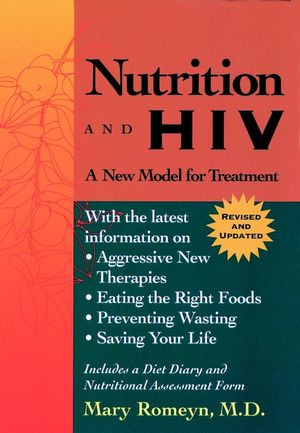 Nutrition and HIV: A New Model for Treatment, Revised and Updated
ISBN: 978-0-787-93964-9 February 1998 Jossey-Bass 448 Pages
Description
Treating HIV with Nutrition

Nutrition and HIV addresses the issues of nutrition and HIV from the perspective of the patient as well as the physician. Everyone who is interested in the problems of--and solutions to--nutritional therapy in HIV owes it to themselves to read this book.
--Paul A. Volberding, M.D., director, Center for AIDS Research, San Francisco

This reference book offers a sound nutritional model for sustaining and improving quality of life for HIV positive men and women. It outlines an easy-to-follow program for the prevention and treatment of weight loss--a common problem that if left untreated could lead to serious health decline or even death.
NUTRITION AND HIV.

1. A New Model for Treatment.

2. Understanding the Process of Wasting.

WHAT YOU CAN DO FOR YOURSELF.

3. Starting Your Own Assessment.

4. Vitamins, Minerals and Trace Elements.

5. Other Immune-Enhancing Supplements.

6. Improving Your Appetite.

7. Improving Your Environment.

8. Sex, Drugs, and Exercise.

WHAT YOU CAN DO WITH YOUR DOCTOR.

9. Choosing a Doctor.

10. Understanding Your Health Care Plan.

11. Monitoring Your Nutrition.

12. The Wasting Syndrome.

13. Fighting the Virus.

14. Secondary Infections.

15. Special Problems.

16. Joining Studies.

17. Women and HIV.

18. What to Do: Algorithms for Care, by Stages.

TAKING CHARGE: HOW TO DIRECT YOUR OWN HEALING.

19. Taking Charge of Your Medical Care.

20. Feeding the Soul.

Appendix A: 1993 CDC Criteria for a Diagnosis of AIDS.

Appendix B: List of Caloric Values.

Appendix C: Vitamin Supplementation Sources.

Appendix D: Types of Studies to Evaluate Drug Effects.

Appendix E: San Francisco General Hospital Diet Counseling Intake Form.

Appendix F: Recommended Schedules of Prophylaxis of Infection.

Appendix G: HIV Intake Physical Form.
"Nutrition and HIV addresses the issues of nutrition and HIV from the perspective of the patient as well as the physician. Everyone who is interested in the problems of--and solutions to--nutritional therapy in HIV owes it to themselves to read this book." (Paul A. Volberding, M.D., director, Center for AIDS Research, San Francisco)

"Thoroughly researched, readable, and compelling. An important new resource for people with HIV and for those who care for them." (Ronald Baker, Ph.D., editor, BETA (Bulletin of Experimental Treatments for AIDS), San Francisco AIDS Foundation)

"So the bottom line is this: HIV is a disease of decreasing nutritional status; people die of wasting when their nutritional status can no longer support life; we already have ways which can delay or limit that decline, and more are on the way. In the race against HIV, there are new ways we can buy more time. And for some of us, the goal to 'Be Here for the Cure' may actually be within our grasp.'' (Mary Romeyn, M.D.)

``As a nutritional consultant for our feeding programs, and now with this book, Mary Romeyn has taught us that our `Meals with Love for People with AIDS' constitutes important treatment for this disease.'' (Tom Nolan, executive director, Project Open Hand)

``Hunger hurts... with Dr. Romeyn's book a person living with HIV now has the ammunition to fight this battle we call AIDS. Nutrition and HIV: A New Model for Treatment is a comprehensive guide to AIDS management through nutrition.'' (Easter M. Armas-Mikulik, founder and executive director of A Loving Spoonful)

"This book can be a useful tool for HIV-infected patients and their dietitians." (Journal of the American Dietetic Association)