Nutrition and Health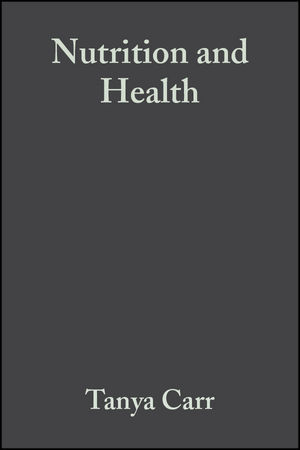 Nutrition and Health
ISBN: 978-0-470-69061-1 February 2008 Wiley-Blackwell 208 Pages
Description
Continuing accumulation of scientific evidence demonstrates that nutrition is one of the most important determinants of health for the individual, and that specific nutrition habits of various populations can significantly decrease the overall risk of several chronic diseases.

This landmark publication, which contains papers presented at the 1st Nutrition and Health conference, covers the major topics relating to nutritional aspects of health. Chapters within this important book cover vital health issues, including details of the links between diet and cardiovascular disease, obesity, cancer, diabetes and osteoporosis. Further chapters within Nutrition and Health cover important nutritional issues, for example managing the human gut flora, vegetarianism and the role of phytoprotectants.

Each chapter has been written by a well-known expert, and the whole has been drawn together and carefully edited, providing an important reference resource for the future. All health professionals interested or involved in nutrition and the impact of nutrition on health should have a copy of this book on their shelves, as should libraries in all medical schools, and universities and research establishments where nutrition, dietetics and food science are studied and taught.


Also available from Blackwell Publishing

A major series of textbooks from the Nutrition Society
Introduction to Human Nutrition (0 632 05624 X)
Nutrition and Metabolism (0 632 05625 8)
Clinical Nutrition (0 632 05626 6)
Public Health Nutrition (0 632 05627 4)

Nutrition Bulletin
(Journal)
Published quarterly
ISSN: 0141 9684


Adverse Reactions to Foods
Edited by J. Buttriss (BNF)
0 632 055472

Principles of Human Nutrition
Second edition
M. Eastwood
0 632 05811 0
Preface.
Contributors.
Introduction: Prevention, a government priority (Imogen Sharp).
1. Diet for the prevention of heart disease: how far are we (Eric Brunner).
2. Should we eat foods o bits of foods? - relevance to cardiovascular disease (Susan Southon).
3. A brief review of the impact of dietary polyphenols on cardiovascular disease (Gary Williamson).
4. Significance of cholesterol absorption: inhibitory role of plant sterols and stanols (Gilber R. Thompson).
5. Soya and the FDA health claim: prevention of cardiovascular diseases (Jaak Ph. Janssens).
6. Nutritional determinants of plasma homocysteine: implications for risk of cardiovascular disease (Anne M. Molly).
7. Dietary strategies to prevent and treat obesity (Susan A. Jebb).
8. Physical activity, exercise and weight control: movement for management (Kenneth R. Fox).
9. Cognitive-behavioural interventions for obesity (Carolyn Edwards).
10. Aspects of fetal origins of disease (Alan A. Jackson).
11. Plant based diets: findings from the Oxford vegetarian study and other prospective studies of vegetarians (Timothy J. Key. Paul N. Appleby, Naomi E. Allen Gwyneth K. Davey, Margaret Thorogood and Jim I. Mann).
12. Review of diet and cancer: what is the evidence (Michael Hill).
13. Micronutrients, phytoprotectants and mechanisms of anticancer activity (Ian T. Johnson).
14. Dietary intervention studies sand cancer prevention (Pieter van't Veer).
15. Diabetes: Familial, genetic or lifestyle (Anne Dornhorst).
16. Dietary control of diabetes (Gary Frost).
17. Management of the human gut flora for improved health (Glenn R. Gibson).
18. Diet and osteoporosis: where are we now (Susan A. New).
19. Behaviour change counseling (Stephen Rollnick and Hayley Prout).
20. Health Claims - can they offer hope for consumers as well as 'hype' for industry (Margaret Ashwell).
21. The role of the media (Geoff Watts).
22. Primary health care professionals - working together in the community (Judy Buttriss).
Closing speech to conference (Suzi Leather).
Appendices: Workshops.
LC-PUFAs: their role in maternal and infant nutrition (Stewart Forsyth).
Soya in women's health (Paola Albertazzi).
Index.
* covers a wealth of important current nutritional issues
* vital distilled cutting-edge information for doctors
* internationally-respected contributing authors
* of interest to a wide range of personnel in the health professions