Nutrition and Metabolism, 2nd Edition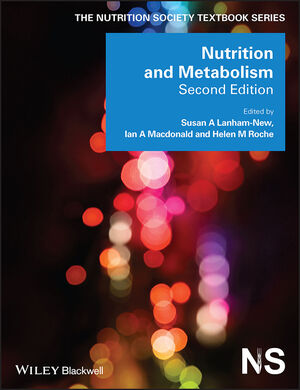 Nutrition and Metabolism, 2nd Edition
ISBN: 978-1-405-16808-3
Dec 2010, Wiley-Blackwell
448 pages
Description
In this second edition of the second title in the acclaimed Nutrition Society Textbook Series, Nutrition and Metabolism has been revised and updated to meet the needs of the contemporary student.

Groundbreaking in their scope and approach, the titles in the series:
Provide students with the required scientific basics of nutrition in the context of a systems and health approach
Enable teachers and students to explore the core principles of nutrition, to apply these throughout their training, and to foster critical thinking at all times. Throughout, key areas of knowledge are identified
Are fully peer reviewed, to ensure completeness and clarity of content, as well as to ensure that each book takes a global perspective
Nutrition and Metabolism is an essential purchase for students of nutrition and dietetics, and also for those students who major in other subjects that have a nutrition component, such as food science, medicine, pharmacy and nursing. Professionals in nutrition, dietetics, food science, medicine, health sciences and many related areas will also find much of great value within its covers.
Contributors.
Series Foreword.
Preface.
Dedication.
1 Core Concepts of Nutrition (Ian A Macdonald and Michael J Gibney).
2 Molecular Aspects of Nutrition (Helen M Roche, Herman E Popeijus and Ronald P Mensink).
3 Integration of Metabolism 1: Energy (Xavier M Leverv).
4 Integration of Metabolism 2: Macronutrients (Keith N Frayn and Abayomi O Akanji).
5 Integration of Metabolism 3: Protein and Amino Acids (Margaret E Brosnan, John T Brosnan and Vernon R Young).
6 Pregnancy and Lactation (Joop MA van Raaij and Lisette CPGM de Groot).
7 Growth and Ageing(Mark L Wahlqvist and Prasong Tienboon).
8 Nutrition and the Brain (John D Fernstrom and Madelyn H Fernstrom).
9 The Sensory Systems and Food Palatability (Conor M Delahunty).
10 The Gastrointestinal Tract (Mariano Mañas, Emilio Martínez de Victoria, Angel Gil, María D Yago and John C Mathers).
11 The Cardiovascular System (Gabriele Riccardi, Angela Rivellese and Christine M Williams).
12 The Skeletal System (John M Pettifor, Ann Prentice, Kate Ward and Peter Cleaton-Jones).
13 The Immune and Infl ammatory Systems(Parveen Yaqoob and Philip C Calder).
14 Phytochemicals (Aedín Cassidy and Colin D Kay).
15 The Control of Food Intake (Adam Drewnowski and France Bellisle).
16 Overnutrition (Linda Bandini, Albert Flynn and Renee Scampini).
17 Undernutrition (Paul Kelly).
18 Exercise PerformanceAsker E Jeukendrup and Louise M Burke
Index.
"As a registered dietitian, I found the book fascinating and up to date . . . The second edition certainly is warranted due to research updates over the past eight years." (Doody's, 12 August 2011)


Facilitates absorption of information through 'key messages' at the start of each chapter

Designed to meet the needs of students of nutrition worldwide

Cross-referenced across the series to enable flow of learning

Written by a team of internationally renowned experts