Nutrition and Physical Activity in Aging, Obesity, and Cancer: The Third International Conference, Volume 1271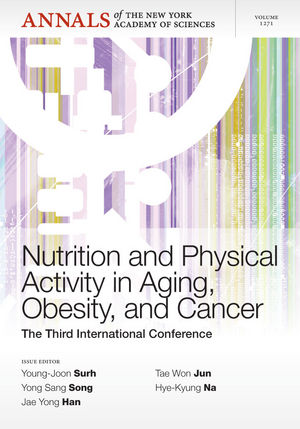 Nutrition and Physical Activity in Aging, Obesity, and Cancer: The Third International Conference, Volume 1271
ISBN: 978-1-573-31889-1
Nov 2012
252 pages
Description
This Annals volume presents a series of short reviews stemming from the 2012 3rd International Conference on Nutrition and Physical Activity (NAPA) in Aging, Obesity, and Cancer.  The papers focus on advances in, and future directions for, physical and nutritional bio-modulation and prevention of aging, obesity, and cancer.
NOTE: Annals volumes are available for sale as individual books or as a journal. For information on institutional journal subscriptions, please visit: http://ordering.onlinelibrary.wiley.com/subs.asp?ref=1749-6632&doi=10.111/(ISSN)1749-6632
ACADEMY MEMBERS: Please contact the New York Academy of Sciences directly to place your order (ww.nyas.org). Members of the New York Academy of Sciences received full-text access to Annals online and discounts on print volumes. Please visit http://www.nyas.org/MemberCenter/Join.aspx for more information on becoming a member.
Cancer prevention as biomodulation: targeting the initiating stimulus and secondary adaptations 1
Priscilla A. Furth
Janus-faced role of SIRT1 in tumorigenesis 10
Na-Young Song and Young-Joon Surh
Unfolded protein response to autophagy as a promising druggable target for anticancer therapy 20
Dong Hoon Suh, Mi-Kyung Kim, Hee Seung Kim, Hyun Hoon Chung and Yong Sang Song
Genomics of complex traits 33
James E. Womack, Hyun-Jin Jang, and Mi Ok Lee
Obesity and cancer risk: evidence, mechanisms, and recommendations 37
Ivana Vucenik and Joseph P. Stains
Molecular mechanisms of garlic-derived allyl sulfides in the inhibition of skin cancer progression 44
Hsiao-Chi Wang, Jung Pao, Shuw-Yuan Lin, and Lee-Yan Sheen
Molecular function of macrophage migration inhibitory factor and a novel therapy for inflammatory bowel disease 53
Jun Nishihira
Molecular determinants of ovarian cancer chemoresistance: new insights into an old conundrum 58
Ahmed Y. Ali, Lee Farrand, Ji Young Kim, Sanguine Byun, Jeong-Yong Suh, Hyong Joo Lee and Benhamin K. Tsang
Inositol polyphosphate multikinase signaling in the regulation of metabolism 68
Joo-Young Lee, Young-ran Kim, Jina Park, and Seyun Kim
Cutaneous responses to environmental stressors 75
Giuseppe Valacchi, Claudia Sticozzi, Alessandra Pecorelli, Franco Cervellati, Carlo Cervellati, and Emanuela Maioli
Obesity, metabolic dysregulation, and cancer: a growing concern and an inflammatory (and microenvironmental) issue 82
Stephen D. Hursting and Sarah M. Dunlap
Select nutrients, progesterone, and interferon tau affect conceptus metabolism and development 88
Fuller W. Bazer, Jingyoung Kim, Gwonhwa Song, Hakhyun Ka, Carmen D. Tekwe, and Guoyao Wu
Diversification and conservation of the extraembryonic tissues in mediating nutrient uptake during amniote development 97
Guojun Sheng and Ann C. Foley
Genetic modification of chicken germ cells 104
Tae Sub Park and Jae Yong Han
Role of PGC-1α signaling in skeletal muscle health and disease 110
Chounghun Kang and Li Li Ji
MicroRNA-target interactions: new insights from genome-wide approaches 118
Dooyoung Lee and Chanseok Shin