Nutrition and Physical Activity in Aging, Obesity,and Cancer, Volume 1229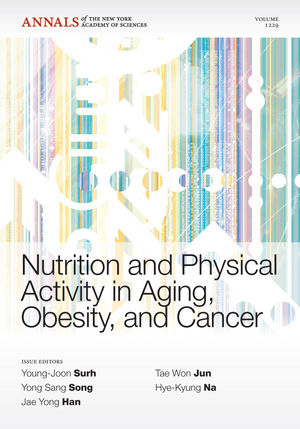 Nutrition and Physical Activity in Aging, Obesity,and Cancer, Volume 1229
ISBN: 978-1-573-31842-6
Aug 2011, Wiley-Blackwell
198 pages
Description
Recently, much attention has been focused on aging and obesity and the pivotal roles these conditions play in the development of chronic diseases such as diabetes, hypertension, and cancer.  Several preclinical and clinical studies have revealed associations between aging and obesity and altered celluar environments––including genetic changes and inflammation–in the pathogenesis of many chronic disorders. Conventional methods for the treatment of cancer, including surgery, chemotherapy, and radiotherapy, result in limited success in certain cases and demonstrate additional modalities are required. In contrast to conventional treatments, some recent strategies are shifting to cancer prevention and treatment through physical exercise and better nutrition to control tumor progression, and to improve prognosis and rehabilitation in some cancer patients.

This Annals volume presents a series of short reviews that focus on recent advances in, and future directions for, physical and nutritional bio-modulation and prevention of aging, obesity, and cancer, and suggest clinical care guidelines for the general population and for cancer patients and survivors who need proper physical exercise and optimal nutrition.

NOTE: Annals volumes are available for sale as individual books or as a journal. For information on institutional journal subscriptions, please visit http://ordering.onlinelibrary.wiley.com/subs.asp?ref=1749-6632&doi=10.1111/(ISSN)1749-6632.

ACADEMY MEMBERS: Please contact the New York Academy of Sciences directly to place your order (www.nyas.org). Members of the New York Academy of Science receive full-text access to the Annals online and discounts on print volumes. Please visit http://www.nyas.org/MemberCenter/Join.aspx for more information about becoming a member.