Nutrition for Foodservice and Culinary Professionals, 8th Edition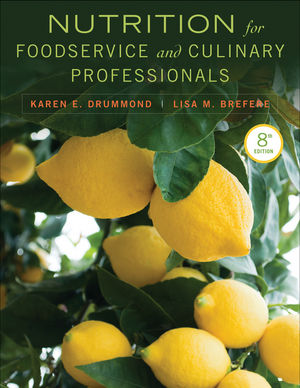 Nutrition for Foodservice and Culinary Professionals, 8th Edition
Product not available for purchase
Description
Nutrition for Foodservice and Culinary Professionals, 8th Edition is the definitive resource that helps readers use nutritional principles to evaluate and modify menus and recipes and to respond to customers' critical questions and dietary needs. The Eighth Edition includes a discussion of the 2010 Dietary Guidelines for Americans and Choose MyPlate graphic and key content. More photographs, charts, and recipes are used to effectively convey nutrition concepts and applications in a visual manner. From students in culinary arts, hospitality management, and nutrition and dietetics programs to practicing culinary and management professionals, this book will be an invaluable reference.
PART ONE:  FUNDAMENTALS OF NUTRITION AND FOODS
Chapter 1.  Introduction to Nutrition
Chapter 2.  Using Dietary Recommendations, Food Guides, and Food Labels to Plan Menus
Chapter 3.  Carbohydrates
Chapter 4.  Lipids:  Fats and Oils
Chapter 5.  Protein
Chapter 6.  Vitamins
Chapter 7.  Water and Minerals
PART TWO:  BALANCED COOKING AND MENUS
Chapter 8.  Balanced Cooking Methods and Techniques
Chapter 9.  Recipe Makeovers
Chapter 10.  Balanced Menus
Chapter 11.  Marketing Balanced Menu Items
PART THREE:  APPLIED NUTRITION
Chapter 12.  Handling Customers' Special Nutrition Requests
Chapter 13.  Weight Management and Nutrition for All Ages
APPENDICES
Discussion of 2010 Dietary Guidelines for Americans and Choose MyPlate graphic and key content.
 Culinary Focus examines each food group from the perspective of a chef, from picking your ingredients to putting a new dish on the menu
The chapters on balanced cooking and menus have been thoroughly updated and expanded with more examples and tips. 
From organic and sustainable foods to gluten-free and allergy diets, the authors explore Hot Topics in the news today.
Fundamentals of Nutrition and Foods:  Two introductory chapters are followed by chapters on specific nutrients, vitamins, and minerals.    
 Balanced Cooking and Menus:  This section begins with foundations of balanced cooking, followed by recipe makeovers and balanced menus.
Applied Nutrition:  This section begins with a chapter that explains customers' special nutrition requests and then continues with weight management and lifespan nutrition, with Hot Topic Fighting Childhood Obesity.