Nutrition in Institutions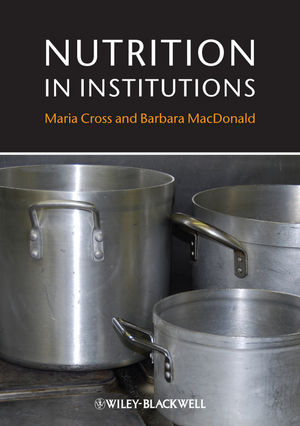 Nutrition in Institutions
ISBN: 978-1-444-30166-3 February 2009 Wiley-Blackwell 440 Pages
Description
The importance of good nutrition for individual health and well-being is widely recognized, yet for a significant number of people who rely on institutions for food and nutrition, this importance has not always been a primary consideration. People, therefore, may find themselves consuming food they would not ordinarily choose to eat, with, in some cases, restricted choices precluding individual preferences and compromising health.
In recent years, there have been major advances in the quality of catering in some areas, particularly schools. Other institutions which have not been thrust into the media spotlight have fared less well in terms of policy drive and commitment.
This insightful new book looks in detail at five institutions: schools, hospitals, care homes for the elderly, prisons and the armed forces. As well as providing a fascinating history of the provision of food in each institution, each section considers:
current policy and standards and their implementation
adequacy of food provided with regard to the health status and dietary requirements of the people in the care of each institution
efficiency of catering organization and issues relating to contract tendering, expenditure and procurement
A broad spectrum of further relevant issues is also covered, including the meaning of food to those in institutions and determinants of choice.
Table of contents
Dedication.
Acknowledgements.
Introduction.
Part 1 Schools (Maria Cross).
1.1 Introduction.
1.2 The health of UK schoolchildren.
1.3 A history of school meal provision to 2001.
1.4 Children's diets prior to the introduction of nutritional standards in 2001.
1.5 The 2001 national nutritional standards.
1.6 Monitoring the 2001 standards.
1.7 Nutritional adequacy and meeting standards.
1.8 Children's dietary choices – post introduction of 2001 nutritional standards.
1.9 Nutritional standards in Scotland.
1.10 Nutritional standards in Wales.
1.11 Nutritional standards in Northern Ireland.
1.12 Government initiatives to improve the diets of children.
1.13 Non-government initiatives to improve food in schools.
1.14 The run up to the 2006 food-based standards and 2008/09 nutrient-based standards.
1.15 Interim food-based standards for school lunches.
1.16 Food-based standards for all other school food and drink.
1.17 Nutrient-based standards.
1.18 Final food-based standards.
1.19 Diverse diets and special dietary needs.
1.20 Target Nutrient Specifi cations.
1.21 Monitoring the new standards.
1.22 Current system of meals provision.
1.23 Catering contracts.
1.24 Catering staff.
1.25 Expenditure.
1.26 Procurement of school meals.
1.27 Free school meals.
1.28 The lunch box.
1.29 Food and cooking in the national curriculum.
1.30 School food – post new standards.
1.31 Determinants of choice.
1.32 Diet and behaviour.
1.33 Good practice.
1.34 School meals in Europe and the US.
1.35 Discussion and conclusion.
Part 2 Hospitals (Barbara MacDonald).
2.1 Introduction.
2.2 The development of workhouses.
2.3 Food provision.
2.4 Current decade.
2.5 Other initiatives.
2.6 Alternative hospital catering facilities.
2.7 Events in 2007.
2.8 Hospital food Scotland.
2.9 Hospital food – Wales.
2.10 Hospital food – Northern Ireland.
2.11 Hospital food – Europe.
2.12 Conclusion.
Part 3 Care homes for the elderly (Barbara MacDonald).
3.1 Introduction.
3.2 Workhouses.
3.3 Reform and the development of care homes.
3.4 Current decade.
3.5 Other initiatives.
3.6 Developments in 2007.
3.7 Scotland.
3.8 Wales.
3.9 Northern Ireland.
3.10 Europe.
3.11 Useful resources.
3.12 Conclusion.
Part 4 Prisons (Maria Cross).
4.1 Introduction.
4.2 The prison population.
4.3 History of prison food.
4.4 Food today.
4.5 Catering standards.
4.6 Expenditure, procurement and staffing.
4.7 Monitoring standards.
4.8 Nutritional adequacy and meeting standards.
4.9 Good practice.
4.10 What prisoners choose to eat, and what they know about healthy eating.
4.11 The prison shop.
4.12 The health of people in prison.
4.13 Diet, nutrition and criminal behaviour.
4.14 Prisons worldwide.
4.15 Discussion and conclusion.
Part 5 Armed forces (Maria Cross).
5.1 Introduction.
5.2 History of feeding the armed forces – the Army.
5.3 History of feeding the armed forces – the Navy.
5.4 Current provision.
5.5 Food and nutrient guidelines.
5.6 The provision of food during operations.
5.7 Monitoring of standards.
5.8 Catering costs.
5.9 Catering contracts and procurement.
5.10 Catering training.
5.11 Nutritional requirements of armed forces personnel.
5.12 Nutrition education.
5.13 Competitions.
5.14 Discussion and conclusion.
Index.
Reviews
"The content makes interesting and worrying reading, highlighting inherent difficulties and problems. This book will be of interest to healthcare professionals, managers and caterers responsible for food provision." (Nursing Standard, June 2010)

"It is written in a light and readable style, easy to thumb through and dip into it, you almost can't help stopping to pick up or poke into new bits of information, or stumbling across cogent reminders of the past — recalling for the reader why we are where we are today, within each setting." (FoodSense, March 2009)
Features


Nutrition in institutions is an area of great current interest

Covers nutrition in schools, hospitals, care homes, prisons and armed forces

Good nutrition in such establishments is vital to ensure healthy populations

Authors have much experience teaching and researching this subject