OCA / OCP: Oracle9i DBA Fundamentals I Study Guide: Exam 1Z0-031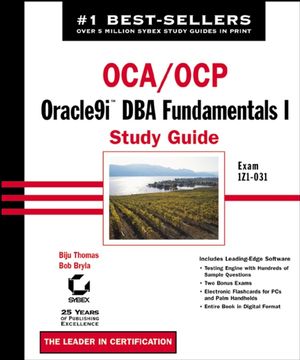 OCA / OCP: Oracle9i DBA Fundamentals I Study Guide: Exam 1Z0-031
ISBN: 978-0-782-14063-7
Apr 2002
452 pages
Product not available for purchase
Description
Here's the book you need to prepare for Exam 1Z0-031: OCA/OCP: Oracle9i DBA Fundamentals I Study Guide
In-depth coverage of official exam objectives
Practical information on implementing and managing Oracle9i databases
Hundreds of challenging review questions, in the book and on the CD
Authoritative coverage of all exam objectives, including:
Understanding Oracle architecture and its main components
Identifying DBA administrative tools
Setting up password file authentications
Creating and managing Initialization Parameter Files
Configuring OMF
Create a database using Oracle Database Configuration Assistant
Creating a database manually
Note: CD-ROM/DVD and other supplementary materials are not included as part of eBook file.
Introduction.
Assessment Test.
Chapter1 Oracle9i New Features for Administrators.
Chapter2 Oracle Overview and Architecture.
Chapter3 Installing and Managing Oracle.
Chapter4 Creating a Database and Data Dictionary.
Chapter5 Control and Redo Log Files.
Chapter6 Logical and Physical Database Structures.
Chapter7 Segments and Storage Structures.
Chapter8 Managing Tables, Indexes, and Constraints.
Chapter9 Managing Users, Security, and Globalization Support.
Glossary.
Index.
Download Images Used in the Book
Download a .zip file with the images from the book.
To uncompress the file, Windows users can use Windows built-in ZIP utilities or a 3rd party utility like WinZip or WinRAR. Macintosh users can simply double-click the downloaded file to extract using the built-in archive utility.
Download
Chapter
Page
Details
Date
Print Run
Combined Errata


Page 0 CD

Bonus Exam #2,
Reader:
Bonus Exam #2 on the CD only shows the answer choices (a,b,c,d) and no question for number 50. What is the question #50?

Author:

The question reads:
Choose the best answer regarding the following two statements.
A SET CONTRAINTS ALL DEFERRED
B ALTER SESSION SET CONSTRAINTS DEFERRED

Matt

Page 0CD

Objective Test - Creating a Database:4. B. The CREATE DATABASE command succeeds, and sets all log files to a size of 5M, including the log file that already exists. If a particular log file does not exist, the REUSE clause is ignored and a new file with a size of 5M. If a file already exists, you MUST specify REUSE.

Page 40

The Tip on Page 40 should read: "...but cannot be dynamically altered".

Page 45

- Authors Note regarding "DISTRIBUTED_TRANSACTIONS"
> Last paragraph on page 45 references the parameter
> DISTRIBUTED_TRANSACTIONS, which is no longer supported. Attempts to
> set this parameter generate an ORA-25138 error message.

Response..
The reader is correct in that the parameter DISTRIBUTED_TRANSACTIONS will generate the error message specified under release 9.2. In the first release of Oracle 9i (9.0.1), this parameter was still supported, and release 9.2 was not out when the book was written.

In any case, the Oracle instance will still start successfully, and under 9.2, the number of current distributed transactions is unlimited.

Thanks.
Bob Bryla

Page 57

Items 3 and 4 on page 57 should be reversed.Once the integrity of the data is maintained (by writing the data to the redo log file along with the SCN), the user will be notified (for example, by returning to the SQL*Plus prompt) that the transaction is complete.

Page 61

question 3, the number of database writer processes (DBWn)Â allowed in Oracle 9.2Â now has a maximum of 20. However, in version 9.0 of Oracle (the release under which the book was written), the maximum was still 10.

Page 90

Table 3.1 Data Type "VARCHAR2 (8)" should read "VARCHAR2 (16)"

Table 3.1 Purpose line 3 "SYS_MODIFIED" should read "SYSTEM_MOD"

Page 119

see detailed description
On page 119, third paragraph, replace the following sentence:

The REUSE clause overwrites an existing file, if any, provided the sizes are the same.

with

The REUSE clause overwrites an existing file, if any, and applies the new size, if specified; if SIZE is not specified, the original size is retained. REUSE must be used if the file already exists, otherwise an error is returned."

Page 120

3rd para.,
The sentence "The character set cannot be changed after database creation." should read instead "The character set cannot be changed after database creation unless the old character set is a proper subset ot the new character set."

Page 132

Point 4b - 'catproc.sql' calls this one. This should be indented as part of an expanded '4a', detailing what else that 'catproc' runs.

Pont 4c - 'otrcsvr' is from previous Oracle releases. The new script is 'dbmsotrc.sql', and it is run by the installer.

Page 141

Replace the answer to question 4 to:
4. B.
The CREATE DATABASE command succeeds, and sets all log files to a size of 5M, including the log file that already exists. If a particular log file does not exist, the REUSE clause is ignored and a new file with a size of 5M. If a file already exists, you MUST specify REUSE.

Page 148

Right before the heading "Creating New Control Files", add a "Note" (from the Sybex Word Template) which reads: The initialization parameter DB_CREATE_ONLINE_LOG_DEST_n is used to create both control files and online redo logs.

3. Lines 2 and 3 "/ora01/" needs to be changed to "/ora04/" - only one line should be modified..we are copying from "ora01" to "ora04" adding a 4th copy of the control file

Page 166

Under the section that starts with LOG_ARCHIVE_DEST_n, 2nd line, 'five' should read "ten"

Page 172

1st line under V$ARCHIVE_DEST '... about the five archive destinations,...' should be '... about the ten archive destinations,...'

Page 176

Chapter 5, Question 2 Change option C. from "Tablespace names" to "Datafile names."

Page 179

Question #13,
ALTER DATABASE should read

ALTER DATABASE ADD LOGFILE
('/logs/file1', '/logs/file2') REUSE;

Page 181

Question 19 '...key step in multiplexing redo log files...'should be '...key step in multiplexing control files...'

Page 191

Line 6 has an extra ";". The ";" after "100M" should be removed.

Page 200

The para. immediately above the TIP in the middle of the page, last sentence should be changed.
Should be changed to:

"You cannot use the ALTER TABLESPACE statement to change a locally managed temporary tablespace to a locally managed permanent tablespace. The following statement changes a dictionary managed permanent tablespace to temporary:
ALTER TABLESPACE TEMP TEMPORARY:"

Page 201

2nd paragraph from the bottom, last sentence should read: You can place a tablespace back online by using the statement ALTER TABLESPACE USER_DATA ONLINE.

Page 206

Middle of the page "V$_TABLESPACE" should be "V$TABLESPACE"

Page 217

The CREATE DATABASE command on page 217 should be replaced with the following:
CREATE DATABASE SJCTEST
LOGFILE SIZE 20M, SIZE 20M
DEFAULT TEMPORARY TABLESPACE TEMP
TEMPFILE SIZE 200M
EXTENT MANAGEMENT LOCAL UNIFORM SIZE 2M
UNDO TABLESPACE UNDO_TBS DATAFILE SIZE 200M; The sentence in the third paragraph from the bottom of page 217 that begins with "System tablespace has the default size of 100M; undo" should instead read "The system tablespace has the default size of 100MB; the undo".

Page 220

Middle of page, 4. Bring the tablespace online., 1st sentence under the line of code should read "If more than one tablespace needs its files moved or renamed, or if a file belonging to the SYSTEM tablespace must be moved or renamed, follow these steps:"

Page 260

The answer to question #2 should read "Undo segment" instead of "Rollback segment" to be more consistent with the answer provided.
Undo segments are
very nearly the same structure as rollback segments, but they are just
more automated in version 9i, and that the DBA can use either structure
for before-image data. In version 10, I believe that rollback segments
will no longer be available.

Page 272

Table 8.1, last line of VARCHAR2, by default the size is in 'bytes' vs. "characters"

Page 282

Bottom of page, last partition 'FY2000Q3' should be "FY2002Q3"

Page 284

Middle of page, the last partition 'DOC203' should be "DOC204"

Page 285

Middle of page, the last partition 'M2001' should be "M9999"

Page 288

The beginning of the second paragraph on p. 288 should change from "Storage for temporary tablespace is" to "Storage for temporary tables is".

Page 289

ALTER TABLE statement,
The third ALTER TABLE statement on page 289 should read

ALTER TABLE ORDERS ALLOCATE EXTENT (SIZE 200K);

Similarly, the fourth ALTER TABLE statement on page 289 should read

ALTER TABLE ORDERS ALLOCATE EXTENT (SIZE 200K
DATAFILE 'C:\ORACLE\ORADATA\USER_DATA01.DBF');

Page 299

4th line in # 4, should be FROM CHAINED_ROWS

Page 314

Analyzing Indexes - All the three "ALTER INDEX...." statements should read "ANALYZE INDEX..."

Page 319

Under the second bullet point (text starting "Use CREATE TABLE to define constraints..."), the Oracle statement has two errors in the line "PRODUCT_ID)": see detailed description
The data type for the PRODUCT_ID column is missing. It should probably be NUMBER, and possibly a foreign key constraint to a table with the products. The semicolon may or may not be required depending on the SQL tool being used, but for consistency's sake, a semicolon is good here.
In any case, the Oracle instance will still start successfully, and
under 9.2, the number of current distributed transactions is unlimited.

Page 323

On the second line, the second occurrence of "DISABLED" should instead be "DISABLE".

Page 330

The SELECT statement at the top of the page should read:
SELECT username, seconds_in_wait, state
FROM v$session_wait, v$session
WHERE v$session_wait.sid = v$session.sid
AND event LIKE '%log buffer space%';

Page 340

Question 1 option C should be 1200KB not 12000KB.

Page 374

DBA role contains the system privileges GRANT ANY PRIVILEGE, GRANT ANY OBJECT PRIVILEGE, and GRANT ANY ROLE, the text is incorrect -- it should read instead: "Unless you have the DBA role or the system privilege GRANT ANY OBJECT PRIVILEGE, to grant privileges on objects owned by another user you must have been granted the appropriate privilege on the object WITH GRANT OPTION."

Page 387

"DELETE_CATALOG_ROLE Ability to drop or re-create the dictionary packages"
Should it be:
"DELETE_CATALOG_ROLE Provides DELETE privilege on the system
audit table (AUD$)" ???

Page EP1

Exam 1Z1-031 should read Exam 1Z0-031




---