OCP: Oracle 10g Administration II Study Guide: Exam 1Z0-043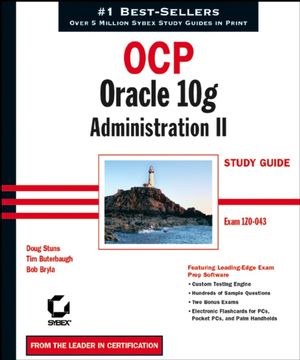 Description
Here's the book you need to prepare for the Oracle Database 10g Administration II exam, 1Z0-043. This Study Guide was developed to meet the exacting requirements of today's Oracle certification candidates. In addition to the consistent and accessible instructional approach that has earned Sybex the "Best Study Guide" selection in CertCities Readers' Choice Awards for two consecutive years, this book provides:
Clear and concise information on advanced database administration with Oracle 10g
Practical examples and insights drawn from the authors' real-world experiences
Leading-edge exam preparation software, including a test engine and electronic flashcards
You'll also find authoritative coverage of key exam topics, including:
Configuring Recovery Manager
Understanding the Flashback Database
Recovering from User Errors
Working with Globalization Support
Using the Scheduler to Automate Tasks
Monitoring and Managing Storage
Securing the Oracle Listener
Look to Sybex for the knowledge and skills needed to succeed in today's competitive IT marketplace.
Introduction.
Assessment Test.
Chapter 1: Configuring Recovery Manager.
Chapter 2: Using Recovery Manager.
Chapter 3: Recovering From Non-Critical Losses.
Chapter 4: Database Recovery.
Chapter 5: Understanding the Flashback Database.
Chapter 6: Recovering from User Errors.
Chapter 7: Handling Block Corruption.
Chapter 8: Understanding Automatic Database Management.
Chapter 9: Understanding Automatic Storage Management.
Chapter 10: Understanding Globalization Support.
Chapter 11: Managing Resources.
Chapter 12: Using the Scheduler to Automate Tasks.
Chapter 13: Monitoring and Managing Storage.
Chapter 14: Securing the Oracle Listener, Diagnostic Sources, and Memory.
Glossary.
Index.
Chapter
Page
Details
Date
Print Run
Combined Errata


Page 173

The SQL command in Step 2 should be changed from "alter db_flashback_retention_target..." to "alter system set db_flashback_retention_target..."

Page 190

Question 16 should be changed from "Which initialization parameter will not create archive logs to the flash recovery area?" to "Which initialization parameter will create archive logs in the flash recovery area?"

Page 191

19. D. RWVR it should be "D. RVWR"

Page 193

Answer to Question 16 should include the additional sentence after the explanation already provided "ARCHIVE_LOG_DEST,ARCHIVE_DUPLEX_DEST, and ARCHIVE_LOG_DEST_n are not valid initialization parameters"

Page 644

Question 11 -
D. The trace file /data1/admin/lnx1/bdump/lnx1_arch_32123_prod.trc will
be created.

This is becase the tracefile_identifier of 'prod' is ignored by
background processes. It won't append '_prod' onto the file name.

Once this change is made, then D will be the correct answer.

Tim


---