OCP: Oracle 10g New Features for Administrators Study Guide: Exam 1Z0-040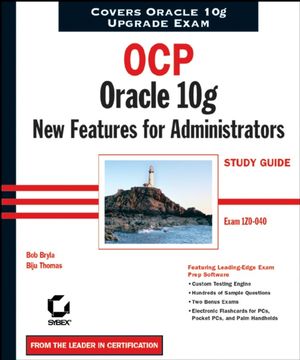 OCP: Oracle 10g New Features for Administrators Study Guide: Exam 1Z0-040
ISBN: 978-0-782-14355-3
Nov 2004
576 pages
Product not available for purchase
Description
Here's the book you need to prepare for Oracle's 10g upgrade exam, Oracle Database 10g: New Features for Administrators (1Z0-040). This Study Guide was developed to meet the exacting requirements of today's Oracle certification candidates. In addition to the consistent and accessible instructional approach that has earned Sybex the "Best Study Guide" selection in CertCities Readers Choice Awards for two consecutive years, this book provides:
Clear and concise information on the enhancements included in Oracle 10g
Practical examples and insights drawn from the authors' real-world experiences
Leading-edge exam preparation software, including a test engine and electronic flashcards
You'll also find authoritative coverage of key exam topics, including:
Installing and Configuring the Server
Loading and Unloading Data
Tuning Applications
Supporting Analytical Applications
Backing Up and Recovering Data
Automating Data Storage Management
Applying Security Policies
Supporting Upgrade Paths to Oracle 10g
Look to Sybex for the knowledge and skills needed to succeed in today's competitive IT marketplace.
Note: CD-ROM/DVD and other supplementary materials are not included as part of eBook file.
Introduction.
Assessment Test.
Chapter 1 Installing and Upgrading to Oracle.
Chapter 2 Moving Data and Managing the Scheduler.
Chapter 3 Automating Management.
Chapter 4 General Storage Management.
Chapter 5 Automated Storage Management.
Chapter 6 Performance and Application Tuning.
Chapter 7 Backup, Recovery, and High Availability.
Chapter 8 Security and SQL Enhancements.
Appendix A SQL*Plus Enhancements.
Appendix B New and Obsolete Initialization Parameters.
Appendix C PL/SQL Enhancements and New Packages.
Glossary.
Index.
Chapter
Page
Details
Date
Print Run
Combined Errata,

Page 78

Table 2.9
The third example on this page should not have the
"Content=data_only" parameter as CONTENT=DATA_ONLY and INCLUDE
parameters cannot be used together. The CONTENT=DATA_ONLY parameter
should be removed from the example.
Another method to accomplish the example result set would be to keep
the CONTENT=DATA_ONLY and replace the INCLUDE parameter with TABLES
parameter.

Thanks,
Biju Thomas

Page 287

Last sentence on the page --
Replace

"Finally, an ASM instance is always in a NOMOUNT state, since it does not have a control file."

with

"Finally, an ASM instance can only be in a NOMOUNT or MOUNT state; it can never be in an OPEN state."

Page 289

replace the last paragraph with the following:

Performing a SHUTDOWN NORMAL on an ASM instance performs the same SHUTDOWN NORMAL command on any database instances using the ASM instance; before the ASM instance finishes its shutdown, it waits for all dependent RDBMS instances to shut down. In contrast, any other SHUTDOWN (such as IMMEDIATE, ABORT, TRANSACTIONAL) on an ASM instance forces a SHUTDOWN ABORT on the dependend RDBMS instances because there is no longer an ASM instance available to manage the database's storage.

Page 292

Second line from the bottom -
second line from the bottom, change

2 '+data2/uspare(datafile)';

to

2 '+data2(datafile)/uspare' size 100m;

Page 316

Answer for question 18 should be replaced with:
E: When an ASM instance shuts down with NORMAL, it waits for all dependent instances to be shut down before terminating. For all other SHUTDOWN options (IMMEDIATE, TRANSACTIONAL, and NORMAL), the ASM instance shuts down and forces a SHUTDOWN ABORT on all dependent instances.