OLAP Solutions: Building Multidimensional Information Systems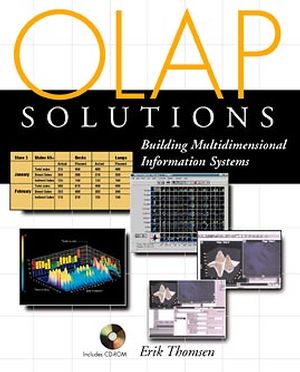 OLAP Solutions: Building Multidimensional Information Systems
ISBN: 978-0-471-14931-6
Mar 1997
608 pages
Product not available for purchase
Description
A complete, practical, hands-on guide to mastering OLAP technology "I was awestruck by the range, depth, and quality of this book." -Rick Crandall, OLAP Council Spokesman and Comshare Board Chairman Written in a clear and engaging style by one of the leading experts in the field, this book takes you on a comprehensive and richly illustrated journey from the most basic concepts to the most advanced areas of OLAP technology. The book describes both logical OLAP features, such as dimensions and hypercubes, and physical features, such as storage and access methods, using real-life case studies to illustrate concepts. You can follow these case studies, step-by-step, using the OLAP software provided on the accompanying CD-ROM. Inside this comprehensive resource you'll find:
* An overview of OLAP and its relationship to data warehousing
* Complete coverage of multidimensional features, including dimensions, hypercubes, hierarchies, data, links, and formulas
* Thorough treatment of how to visualize multidimensional data sets
* Practical steps for designing multidimensional information systems
* Case studies covering such topics as global planning for sales and marketing, portfolio analysis, air transportation, and cost-benefit analysis for infrastructure projects
* Guidelines for evaluating OLAP products, with OLAP vendor and product descriptions
On the CD-ROM you'll find:
* A copy of the OLAP software package used to create the book's case studies
* A functional version of each case study covered in the book
* A copy of the product used to create the book's visualizations
* A functional version of the visualizations created in the book
* A full listing of major OLAP vendors and tools
Visit our Web site at: http://www.wiley.com/compbooks/
Partial table of contents:

THE NEED FOR MULTIDIMENSIONAL TECHNOLOGY.

Functional Requirements of OLAP Systems.

The Limitations of Spreadsheets and SQL.

EXPLANATION OF MULTIDIMENSIONAL FEATURES AND CONCEPTS.

Basic Multidimensional Features, Part 1.

The Benefits of a Multidimensional Approach.

Advanced Features, Part 1.

Advanced Features, Part 2.

HANDS-ON MULTIDIMENSIONAL CASE STUDIES.

Practical Steps for Defining OLAP Models.

Global Planning for Sales and Marketing.

Portfolio Analysis.

FURTHER ISSUES.

Dimensional Modeling and Analysis.

Towards a Logic-Grounded Model for OLAP.

Comprehensive Guidelines.

Appendices.

Bibliography.

Index.