Object Relations and Integrative Psychotherapy: Tradition and Innovation in Theory and Practice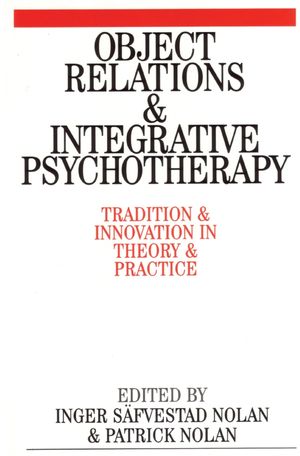 Object Relations and Integrative Psychotherapy: Tradition and Innovation in Theory and Practice
ISBN: 978-1-861-56338-5 October 2002 240 Pages
Download Product Flyer
Download Product Flyer
Download Product Flyer is to download PDF in new tab. This is a dummy description. Download Product Flyer is to download PDF in new tab. This is a dummy description. Download Product Flyer is to download PDF in new tab. This is a dummy description. Download Product Flyer is to download PDF in new tab. This is a dummy description.
Description
This book explores how an object relations-integrative perspective may combine in-depth psychodynamic principles and theories with the flexibility afforded by an integrative framework. Object relations theory is rooted in a psychoanalytic tradition which views individuals essentially social and holds that their need for others is primary. Integrative psychotherapy attempts to combine the theories and/or techniques of two or more therapeutic approaches. This volume is useful for graduates, undergraduates and trainee psychotherapists as well as social workers, psychologists, psychotherapists and counsellors who are interested in broadening their understanding of different therapeutic approaches and intefrative endeavours. The contributors consist of an international group of practitioners and theoreticians who draw on the knowlege of object realtions and other therapeutic orientations as well as innovations in the integrative movement. Some of te contributors grapple directly with integrative questions, while others examine ways of working with specific client groups or methods, where integrative ideas enrich their work.
Table of contents
Acknowledgements.
List of contributors.
Chapter 1 Tradition and innovation in theory and practice: an orientation, Inger Safvestad Nolan and Patrick Nolan.
Chapter 2 Object relations as a context for an integrative approach to psychotherapy, Patrick Nolan.
Chapter 3 Integrative and object relations focused approaches to psychotherapy: theoretical concerns and outcome research, George Stricker and Jane Gooen-Piels.
Chapter 4 An object relations based integrative psychotherapy: the use of conceptuala analysis in understanding change, Hilde Rapp.
Chapter 5 Integration of theory: methodolical issues, Mikael Leiman and William B. Stiles.
Chapter 6 Developmetnal theories in the process of change, Margareta Broden.
Chapter 7 Integrating object relations narratives in analytic work with children and adolescents, Paul Sepping.
Chapter 8 The weave of object relations and familty systems thinking: working therapeutically with families and couples in a community alcohol service, Arlene Vetere and Mavis Henley.
Chapter 9 Cognitive Analytic Therapy: a Vygotskian development of object relations theory, Anthony Ryle and Fierman Bennink-Bolt.
Chapter 10 Sexual abuse, post-traumatic stress and object relations: an integrative way of working, Deirdre Mannion.
Chapter 11 An integrative approach to body oriented psychotherapy, Lennart Ramberg and Bjorn Wrangsjo.
Chapter 12 Supervision from an object relations and integrative perspective: a learning from experience, Gertrud Mander.
Chapter 13 The strengths and limitations of a psychodynamic perspective in organizational consultancy, Eric Miller.
Chapter 14 Tribal processes in psychotherapy: the stand off between psychoanalytic and systemic schools, Sebastian Kraemer.
Index.