Observations on the Ecology and Biology of Western Cape Cod Bay, Massachusetts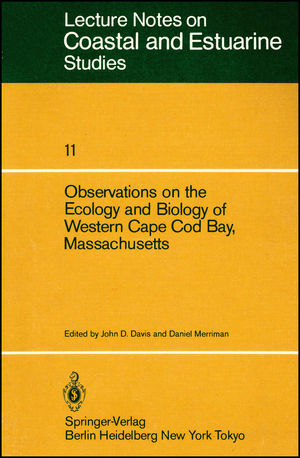 Observations on the Ecology and Biology of Western Cape Cod Bay, Massachusetts
ISBN: 978-1-118-66956-3
Mar 2013, American Geophysical Union
289 pages
Description
Published by the American Geophysical Union as part of the Lecture Notes on Coastal and Estuarine Studies Series, Volume 11.

Alice, amongst all her Adventures in Wonderland, comes to a situation where she has to run faster and faster just to stay in the same place. As Canfield (1974) has pointed out, this happenstance has a close parallel in the history of growth patterns for energy.
The simile has two parts. The first involves proliferation of the world population, advances in technology, etc., which in turn require more and more energy—i.e., as natural resources diminish we have to run faster and faster to find new sources of supply just to stay level with the ever increasing demand. The second part, inseparable from the first, involves the belated realization that "...our responsibility to preserve the earth and its inhabitants..." carries with it the comprehension "...that the more energy we use, the more problems of pollution we encounter." That is, we have to take faster and faster remedial steps just to keep even with the control of the increasing levels of different sorts of pollution and degradation.
Preface
Daniel Merriman v
Western Cape Cod Bay: Hydrographic, Geological, Ecological, and Meteorological Backgrounds for Environmental Studies
John D. Davis 1
Algal Investigations in the Vicinity of Plymouth, Massachusetts
Walter Grocki 19
Irish Moss Harvesting along the Shore of Western Cape Cod Bay
Robert P. Lawton and others 49
Phytoplankton of Western Cape Cod Bay
Richard C. Toner 57
Zooplankton of Western Cape Cod Bay
Richard C. Toner 65
Some Aspects of Nearshore Benthic Macrofauna in Western Cape Cod Bay
John D. Davis and Richard A. McGrath 77
The Seasonal Occurrence and Distribution of Larval Lobsters in Cape Cod Bay
George C. Matthiessen 103
Growth and Movement of Tagged Lobsters Released in Western Cape Cod Bay, 1970-1977
Robert P. Lawton and others 119
The Commercial Lobster Pot-Catch Fishery in the Plymouth Vicinity, Western Cape Cod Bay
Robert P. Lawton and others 131
The Ichthyoplankton of Cape Cod Bay
Michael D. Scherer 151
Fishes of Western Inshore Cape Cod Bay: Studies in the Vicinity of the Rocky Point Shoreline
Robert P. Lawton, Robert D. Anderson, and others 191
The Recreational Fishery at Pilgrim Shorefront, Western Cape Cod Bay
Robert P. Lawton and others 231
Seasonal Abundance and Occurrence of some Planktonic and
Ichthyofaunal Communities in Cape Cod Bay: Evidence for Biogeographical Transition
Thomas J. Horst, Robert P. Lawton, Richard C. Toner, and Michael D. Scherer 241
A Brief Survey of Pilgrim Nuclear Power Plant Effects upon the Marine Aquatic Environment
W. Leigh Bridges and Robert D. Anderson 263
APPENDIX I: Personnel of the Pilgrim Nuclear Power Station
Marine Ecology Study Program, 1969-1980 273
APPENDIX II: Marine, Ecological, and Hydraulic Studies Associated
with Pilgrim Nuclear Power Station, 1969-1980 275
INDEX 278