Observing and Analysing Natural Language: A Critical Account of Sociolinguistic Method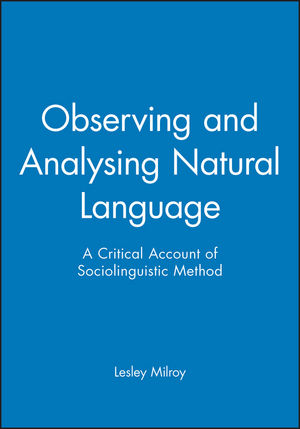 Observing and Analysing Natural Language: A Critical Account of Sociolinguistic Method
ISBN: 978-0-631-13623-1
Jan 1991
248 pages
Description
Social networks -- those informal and formal social relationships of which any human society is composed -- are distinguished by their own patters of language use. Lesley Milroy is concerned with the manner in which patterns of linguisitic variation characterize particular groups (social and cultural, geographic, male and female) within a complex urban community.
Preface.
Acknowledgments.
1. Language, Class and Community.
2. Obtaining Data in the Speech Community: Major Principles.
3. Studying Language in teh Community: The Fieldworker and the Social Network.
4. The Social Context of Speech Events.
5. The Quantitative Analysis of Linguistic Data.
6. The Language of the Individual Speaker: Patterns of Variation and Network Structure.
7. Conclusions and Theoretical Implications.
Appendix.
References.
Index.
"An impressive book by any standards, and is likely to take its place as a "classic" of sociolinguistics." R.A. Hudson, Journal of Linguistics (of the first edition)



Examines questions of how to access and analyze actual language use and study language in its social context



Integrates a thorough and practical description of current sociolinguistic methodology with a discussion of theory


Stresses the need for the entire research process from the initial design of the project to the interpretation of results to be grounded in theoretically defensible positions