Obsessive-Compulsive Disorder: Theory, Research and Treatment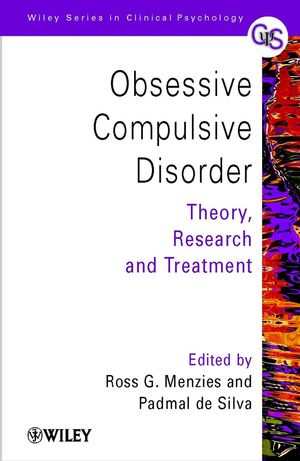 Obsessive-Compulsive Disorder: Theory, Research and Treatment
ISBN: 978-0-471-49445-4 March 2003 456 Pages
Description
Obsessive Compulsive Disorders (OCDs) involve habitual, repetitivebehaviours that can be bizarre, disruptive and eventuallydisabling. They can destroy lives and relationships and are one ofthe most common of the emotional disorders.

The last five years have seen substantive advances in the state ofknowledge of all aspects of OCD and this volume brings togethermany of the recognised leaders in the field to provide astate-of-the-art account of theory, assessment and practice intreatment.

A comprehensive text for trainees and practitioners.

? Presents current theories as well as treatment, focusing mainlyon Cognitive Therapy methods of treatment

? Covers the assessment, nature and treatment of a wide range ofsub-types of OCD

? Written by an international team of experts

Part of the renowned Wiley Series in Clinical Psychology
About the Editors.

List of Contributors.

Preface.

Acknowledgements.

Section I -
The Nature of OCD.

Chapter 1 -
The Classification and Diagnosis of OCD (A.Krochmalik and R. Menzies).

Chapter 2 -
The Phenomenology of OCD (P. de Silva).

Section II -
Theoretical Accounts of OCD.

Chapter 3 -
Neuropsychological Models of OCD (I. Frampton).

Chapter 4 -
Cognitive-behavioural Theory of OCD (P. Salkovskisand J. McGuire).

Chapter 5 -
Repetitive and Iterative Thinking inPsychopathology: Anxiety-inducing Consequences and a Mood-As-InputMechanism (G. Davey, et al.).

Chapter 6 -
Personality and Individual Differences in OCD (A.Macdonald).

Section III -
Clinical Presentations and Subtypes of OCD.

Chapter 7 -
Obsessive-compulsive Washing (M. Jones and A.Krochmalik).

Chapter 8 -
Compulsive Checking (S. Rachman).

Chapter 9 -
Compulsive Hoarding (R. Frost and T. Hartl).

Chapter 10 -
Primary Obsessional Slowness (S. Rachman).

Chapter 11 -
Obsessions, Ruminations and Covert Compulsions (P.de Silva).

Ch apter 12 -
Atypical Presentations (D. Einstein and R.Menzies).

Chapter 13 -
The Obsessive-compulsive Spectrum and BodyDysmophic Disorder (D. Veale).

Section IV -
Approaches to Assessment and Treatment in OCD.

Chapter 14 -
Assessment Procedures (T. St. Clare).

Chapter 15 -
Exposure and Response Prevention for OCD (M.Kyrios).

Chapter 16 -
Cognitive Therapy for OCD (M. Marks).

Chapter 17 -
Pharmacological and Neurosurgical Treatment of OCD(M. McDonough).

OCD in Children and Adolescents (R. Shafran).

Chapter 19 -
The Management of Treatment-resistant Cases andother Difficult Clients (M. Bruch and A. Prioglio).

Section V -
Professional Issues.

Chapter 20 -
Training, Resources and Service Provision (L.Harris and R. Menzies).

References.

Author Index.

Subject Index.
"...a succinct yet broad view of OCD...the scope ofthe book is wide..." (British Journal of Psychiatry, Dec2003)

"...differences and similarities of everymanifestation of the disorder are carefullyexplained...information is presented unsensationally andrespectfully..." (Mental Health Today, Feb 2004)