Obsessive-Compulsive Disorder For Dummies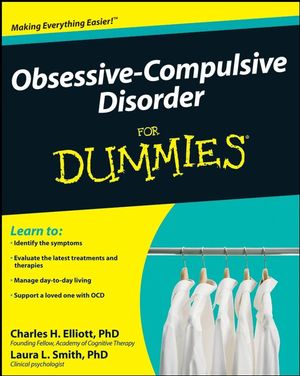 Obsessive-Compulsive Disorder For Dummies
ISBN: 978-0-470-44469-6 November 2008 384 Pages
Description
Arguably one of the most complex emotional disorders, Obsessive Compulsive Disorder is surprisingly common. Furthermore, most people at some time in their lives exhibit a smattering of OCD-like symptoms.

Obsessive Compulsive Disorder For Dummies sorts out the otherwise curious and confusing world of obsessive compulsive disorder. Engaging and comprehensive, it explains the causes of OCD and describes the rainbow of OCD symptoms. The book shows readers whether OCD symptoms represent normal and trivial concerns (for example, a neat freak) or something that should be checked out by a mental health professional (for example, needing to wash hands so often that they become raw and red). In easy to understand steps, the authors lay out the latest treatments that have been proven to work for this disorder, and provide practical and real tools for living well long-term. Whether you or someone you care about has this disorder, Obsessive Compulsive Disorder For Dummies gives you an empathic understanding of this fascinating yet treatable mental disorder.
Introduction.
Part I: The Ins and Outs of OCD.
Chapter 1: Reviewing Obsessive-Compulsive Disorder (OCD).
Chapter 2: Scrutinizing OCD.
Chapter 3: Meeting the Relatives and Associates of OCD.
Chapter 4: Blaming the Brain for OCD.
Chapter 5: Developing and Reinforcing OCD.
Part II: Starting Down the Treatment Path.
Chapter 6: Overcoming OCD Obstacles to Change.
Chapter 7: Getting Help for OCD.
Part III: Overcoming OCD.
Chapter 8: Cleaning Up OCD Thinking with a CBT Reality Check.
Chapter 9: Managing the OCD Mind.
Chapter 10: Tackling OCD Behavior with ERP.
Chapter 11: Considering Medications for OCD.
Chapter 12: Responding to and Recovering from Relapse.
Part IV: Targeting Specific Symptoms of OCD.
Chapter 13: Dealing with Doubting and Checking OCD.
Chapter 14: Subduing OCD-Driven Shame.
Chapter 15: Messing with "Just So" OCD.
Chapter 16: Throwing Out OCD: Hoarding.
Chapter 17: Shrinking Superstitious OCD.
Chapter 18: Uncovering OCD Accomplices.
Chapter 19: Dealing with OCD-Related Impulsive Problems.
Part V: Assisting Others with OCD.
Chapter 20: Determining Whether Your Child Has OCD.
Chapter 21: Helping Your Child Overcome OCD.
Chapter 22: Helping Family and Friends Overcome OCD with Coaching.
Part VI: The Part of Tens.
Chapter 23: Ten Quick OCD Tricks.
Chapter 24: Ten Steps to Take After You Get Better.
Chapter 25: Ten Dirty Little Secrets about Dirt.
Part VII: Appendixes.
Appendix A: Resources For You.
Appendix B: Forms to Use Against OCD.