Occupation for Occupational Therapists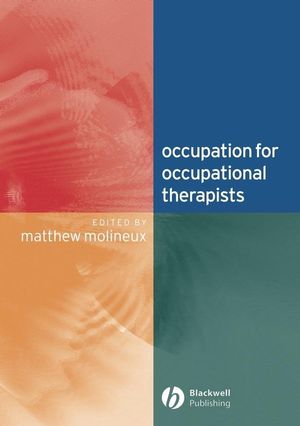 Occupation for Occupational Therapists
ISBN: 978-1-405-10533-0
Jun 2004, Wiley-Blackwell
256 pages
Description
This book engages with the renewed focus on the centrality of occupation in occupational therapy. It is informed by a subtle but significant shift in thinking, towards a recognition that humans are occupational beings, not merely that occupation is an important part of human life. The emergence of this publication is therefore timely amidst the debate on occupational science.





The book is aimed at students of occupational therapy and interested clinicians. It is designed to support them to work in a way that is grounded in and focussed on occupation. The chapters follow a common structure, which underpins a stimulating array of content. This extends from an examination of conceptual issues such as creativity and flow to clinical examples of practising in an occupational way. The final section provides a glimpse of new practice frontiers, including working with refugees and population health.
Chapter 1. Occupation in Occupational Therapy: A Labour in Vain?.
Section A: Exploring the Nature of Occupation Within Occupational Therapy.
Chapter 2. Occupational Diagnosis.
Chapter 3. Spirituality in the Context of Occupation: A Theory to Practice Application.
Chapter 4. Time Use and Disability.
Chapter 5. Occupation and Flow.
Chapter 6. On Watching Paint Dry: An Exploration of Boredom.
Chapter 7. Creativity and Occupation.
Section B: Practising in an Occupational Way.
Chapter 8. Occupational Performance Issues in Pretend Play: Implications for Paediatric Practice.
Chapter 9. Social Inclusion Through Occupational Therapy in Community Mental Health.
Chapter 10. Occupational Reconstruction for People Living with HIV/AIDS.
Chapter 11. Therapeutic Occupation Following Stroke: A Case Study.
Chapter 12. Occupational Science: The Forensic Challenge.
Section C: Future Possibilities.
Chapter 13. Occupational Issues of Refugees.
Chapter 14. Occupational Science, Occupational Therapy and Evidence Based Practice: What the Well Elderly Study has Taught Us.
Chapter 15. Occupation, Population Health and Policy Development
"
Occupation for Occupational Therapists
will act as a power surge for any occupational therapist who wishes to recharge his or her batteries of occupational thinking. Equally, it will hold inspiration for students of this professional group."
British Journal of Occupational Therapy, November 2006

'Readers of the book with [an] inquisitive mind will enjoy and benefit a great deal from this book.'

Indian Journal of Occupational Therapy

'Occupation for Occupational Therapists is a worthwhile and useful contribution to the growing literature in this area'

Canadian Journal of Occupational Therapy, October 2007
* Provides an accessible introduction to current debates on occupation
* Reflects an international perspectives
* Includes case studies which detail interventions
* Practice examples cover both physical and mental health and range from children to older people