Occupational Health: Pocket Consultant, 5th Edition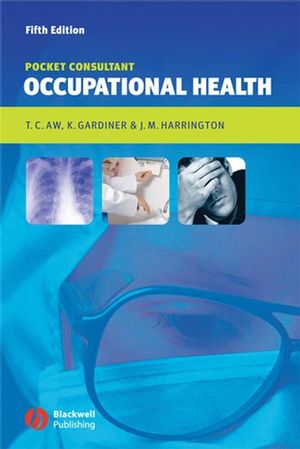 Occupational Health: Pocket Consultant, 5th Edition
ISBN: 978-0-470-75775-8
Jan 2008, Wiley-Blackwell
384 pages
Description
Offering a balance of theory and practice, with guides for further reading, this is a clinical guide for the practitioner in the widest sense: physicians, nurses, occupational hygienists, safety officers, environmental, health officers and personnel managers. With coverage of both medicine and hygiene, and including sections on OH law, it is a primer for appropriate courses and provides all that the interested medical student would need to know.
1 Introduction.
2 Occupational health services - an international perspective.
3 Occupational diseases.
4 Occupational infections.
5 Occupational toxicology.
6 Occupational hygiene - gases, vapours, dusts and fibres.
7 Physical hazards - light, heat, noise, vibration, pressure, and radiation.
8 Musculoskeletal disorders.
9 Psychosocial aspects of the workplace.
10 Risk assessment.
11 Control of air-borne contaminants.
12 Personal protection of the worker.
13 Special issues in occupational health.
14 Legal aspects of occupational health.
15 Sources of information
"The fifth edition of this respected guidebook balances OH theory and practice and is relevant across the OH disciplines...The breadth of coverage, from Legionnaires' disease to locus of control, and from noise rating curves to retirment on health grounds, gives a lot of punch to this pocket consultant."
Occupational Health [at Work], December/January_06/07
Praise for the Fourth Edition:

"… unlike many others in the field, [it] fuses occupational medicine and occupational hygiene into one volume..."
Journal of the Institute of Health Education

"This is a great little book and I wholeheartedly recommend it."
Health & Safety Society Reviews Bulletin

"At such a modest price this useful introduction can be recommended to all new doctors and hygienists in the specialty."
Community Medicine

"I recommend this book to all occupational health practitioners. It is not a book for the shelf but one for the pocket or handbag, to be referred to at all times."
Nursing Standard
The compact reference of choice for the occupational health practitioner team


Covers both medicine and hygiene which no other similarly synoptic volume does

Includes additional sections on nursing and law

Offers coverage of key subject areas in occupational health – including occupational hygiene, toxicology, health effects and practical aspects of practice

Provides all the information an interested medical student needs to know