Occupational Health Law, 4th Edition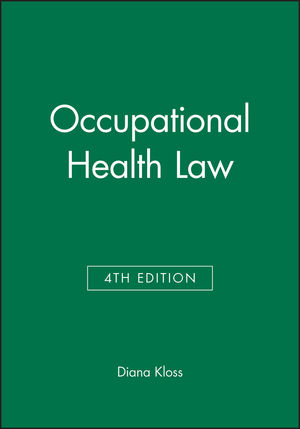 Occupational Health Law, 4th Edition
ISBN: 978-1-405-14452-0 April 2008 Wiley-Blackwell 432 Pages
Description
A new edition has become needed because of the large number of changes in the law since the last edition was published in 1998. These include the Human Rights Act; the Data Protection Act 1998 which was brought into force in 2000; new case law on compensation (particularly with regard to stress); the Woolf reforms on civil procedures, especially regarding expert witnesses; and developments in equal opportunities law (e.g. maternity leave). The section on disability discrimination has been completely rewritten. Other new features include genetic testing in employment and the new offence of corporate manslaughter, and details regarding the new training and evaluation criteria that occupational health professionals are required to satisfy.
Preface to the Fourth Edition.
Abbreviations.
Table of Cases.
Table of Statutes.
Table of Statutory Instruments.
General Introduction.
1. The Provision of Occupational Health Services.
2. The Legal Status and Liability of the OH Professional.
3. Medical Records and Confidentiality.
4. Pre-Employment Screening and Health Surveillance.
5. Health and Safety at Work: the Criminal Law.
6. The Law of Compensation: Welfare Benefits.
7. The Law of Compensation: Civil Liability.
8. Employment law.
9. Equal Opportunities.
Appendix A. Reporting of Injuries, Diseases and Dangerous Occurrences Regulations 1995, Schedule 3.
Appendix B. Control of Substances Hazardous to Health Regulations 2002, Regulation 11 and Schedule 6, and Approved Code of Practice Paragraphs.
Appendix C. Social Security (Industrial Injuries) (Prescribed Diseases) Regulations.
Appendix D. Management of Health and Safety at Work Regulations 1999, Regulation 6, and Approved Code of Practice, paragraphs 41-45.
Appendix E. Disability Discrimination Act 1995: Guidance on matters to be taken into account in determining questions relating to the definition of disability.
References.
Index.
'This is essential reading. The revealing case histories are an education in themselves. Clear, straight to the point exposition makes the book superb value for money and invaluable as a reference.'
Journal of Occupational Safety and Health
'What makes this book special is not just the mine of useful and expert information but its readability and compassion, which, in a legal textbook, has to be as rare as hen's teeth.'
Journal of Occupational Health, Safety and Environment

'Explores the complete landscape of occupational health and workers' rights … a reference not only for those lobbying or legislating, but also for occupational health care professionals and human resources departments.'
Euroabstracts

'Very informative, concise and detailed.'
Physiotherapy

'Diana's book provides a long awaited and much needed framework … make sure you have access to [it].'
ACPOH Newsletter

'Occupational Health Law is an essential, comprehensive and up-to-date reference source for OH professionals.'
OCCUPATIONAL HEALTH [at Work]

"Occupational Health Law remains an essential reference... One of the book's greatest strengths is its clear explanation of this aspect of British employment law to the non-lawyer. A book for the practice library certainly as well as the DMLS reference collection, but also essential reading for anyone undertaking AFOM or even, in my view, D Occ Med Training."
N K Cooper, HQ BFG Health Service
* The established work on the subject
* as the law becomes more complex and demands on employers increase, a well written and accessible guide has become even more necessary
* essential reference for occupational health and personnel departments
* 'Essential reading... clear, straight to the point... superb value for money' - Occupational Safety & Health