Occupational Hygiene, 3rd Edition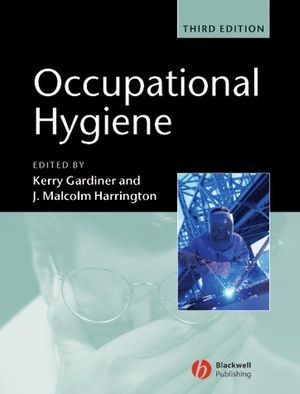 Occupational Hygiene, 3rd Edition
ISBN: 978-1-405-17288-2 April 2008 Wiley-Blackwell 520 Pages
Description
Employees, employers and the government have all become very aware of the effects on health of the work environment. As a result, this subject area is rapidly developing with recent changes in legislation, sampling and measurement methods, as well as a new emphasis on the psychological impact of work, and the importance of an appropriate work-life balance.


The purpose of this book is to provide a clear and concise account of the principles of occupational hygiene and, as such, it is suitable for students studying for degree courses in this subject and for the MFOM. It is also suitable for occupational physicians and nurses, to safety representatives and to trade unionists.





This edition sees the introduction of nine new chapters covering recently emerged topics such as work/life balance, work organisation and pyschological issues.
List of Contributors.
Preface..
Part 1: Introduction.
Occupational Hygiene (Kerry Gardiner).
Global Strategies and Trends in Occupational Health: Well-being at Work in Focus (Bengt Knave).
Part 2: Organ Structure and Function and the Adverse Effects of Work.
The Structure and Function if the Lung (J. Malcolm Harrington and Anthony J. Newman-Taylor).
Organ Structure and Function: The Skin (Iain S. Foulds).
Musculoskeletal Disorders (Grahmae Brown).
The Effects of Inhaled Materials on the Lung and Other Target Organs (Jon G. Ayres).
The Effects of Some Physical Agents (Philip Raffaelli).
Toxicology (Julian Delic, Steven Fairburst and Maureen Meldreum).
Part 3: Principles of Occupational Hygiene.
The Nature and Properties of Workplace Airborne Contaminants (Lisa M. Brosseau and Claudiu T. Lungu).
Principles of Risk Assessment (Steven S. Sadhra).
Design of Exposure Measurement Surveys and their Statistical Analyses (Hans Krombout, Martie van Tongeren and Igor Burstyn).
Retrospective Exposure Assessment (Tom J. Smith, Patricia A. Stewart and Robert F. Herrick).
Biological Monitoring ((Tar-Ching Aw).
Epidemiology (J. Malcolm Harrington).
Part 4: Environmental Hazards: Principles and Methods of their Assessment.
The Sampling of Aerosols: Principles and Methods. (David Mark).
The Sampling of gases and Vapours: Principles and Methods (Richard H. Brown).
Noise (Kerry Gardiner).
Vibration (Michael J. Griffin).
Light and Lighting (N. Alan Smith).
The Thermal Environment (Antony Youle).
Non-ionizing Radiation: Electromagnetic Field and Optical Radiation (Philip Chadwick).
Ionizing Radiation: Physics, Measurement, Biological Effects and Control (Ronald F. Clayton).
Biological Agents (Julia M. Greig and Chris J. Ellis).
Psychological Issues (Anne Spurgeon).
The Development of Argonomics as a Scientific Discipline (Joanne Crawford).
Dermal Exposure Assessment (John W. Cherrie)..
Part 5: Allied and Emerging Issues.
Occupational Accident Prevention (Richard T. Booth and Anthony J. Boyle).
Part 6: Control.
Work Organization and Work-related Stress (Tom Cox, Amanda Griffiths and Stavroula Leka).
Control Philosophy (Kerry Gardiner).
Ventilation (Frank Gill).
Personal Protective Equipment (Robin M. Howie).
Occupational Health and Hygiene Management (Lawrence Waterman and Karen Baxter)
Quotes on the previous editions:
'A very welcome, strongly recommended and well presented book.'--Hazardous Substances

'this book provides an excellent introduction to the field of industrila hygiene.'--AIHA journal

'This book provides an excellent overview of occupational hygiene and it will remain on the essential reading list of all AFOM and Diploma students.'--Occupational Medicine

'It should fairly quickly become the textbook for students of occupational hygiene ... and it would be valuable reading for physicians new to occupational health.'--Occupational & Environmental Medicine


Set text for many occupational health and hygiene courses.

Nine new chapters address recently emerged topics such as work/life balance, work organisation and psychological issues.