Occupational Therapy Activities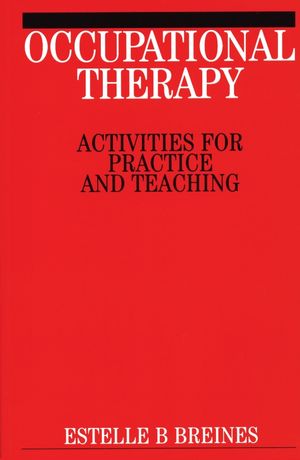 Occupational Therapy Activities
ISBN: 978-1-861-56393-4 January 2004 188 Pages
Description
At last, a book about the little pieces of occupation which make up life' s real situations and experiences and form a basis for therapy. Offered in the form of stories about practice previously published in the popular US publication Advance for Occupational Therapy Practitioners, this enjoyable book presents occupational therapists as "masters of the mundane." Therapists, students and educators will find this easy to read text a useful tool in guiding clinical approaches to therapy.

Accompanied by theoretical papers by Dr. Estelle Breines and colleagues previously published in refereed international journals, these stories will aid the reader in understanding principles of active occupation that guide practice and shed light on how these ideas can be applied to the education of therapists.
Papers Appear Under The Following Section Headings.
Thinking Deep thoughts.
The Magic of Healing.
Old Crafts - New Ideas.
Toys and Games.
Saving the Environment.
Home.
Garden and Beyond.
Pets and People.
Occupational technology and Occupational Therapy.
Teaching and Learning Through activity.