Occupational Therapy Approaches for Secondary Special Needs: Practical Classroom Strategies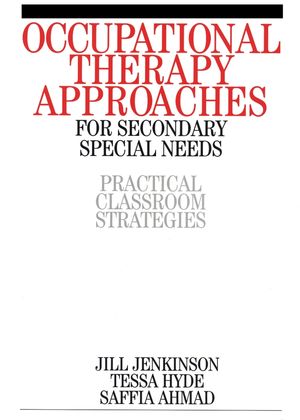 Occupational Therapy Approaches for Secondary Special Needs: Practical Classroom Strategies
ISBN: 978-1-861-56330-9
Dec 2005
276 pages
Description
The current trend towards social inclusion has resulted in an increasing awareness by school staff of the necessity to support students who have a variety of additional needs. Occupational Therapists identify how physical, psychological and learning disabilities affect a student?s ability to operate in the classroom. This highly practical book will help staff recognise when a student?s poor performance within the classroom is the result of a medical condition or underlying motor and perceptual deficit. Clear tables enable the reader to link observed classroom behaviour with possible management approaches and sources for further advice. Each curriculum subject has been analysed to identify areas where practical strategies will help students to achieve their potential. Information, clearly set out with bullet points, will provide a useful resource for special needs co-ordinators, teachers and support staff when devising Individual Education Plans. Paediatric Occuptional Therapists working with secondary aged students will also find it an invaluable tool.
Introduction.
Chapter 1. Foundation Skills.
Chapter 2. Medical Conditions.
Chapter 3. Curriculum Areas.
Chapter 4. Occupational Therapy Skills Sheets.
Appendix 1: Alternative Methods of Recording.
Appendix 2: Handwriting Self-Evaluation Checklist.
Appendix 3: Information kCommunication Technology Checklist and Resources.
Appendix 4: Teachers' Checklist for Visual Signs.
Appendix 5: Student Work Schedule.
Appendix 6: Individual Student Profile.
Equipment Resources.
Suppliers' addresses.
Useful Addresses.
Further Reading.
Glossary.
Index.