Occupational Therapy Evidence in Practice for Physical Rehabilitation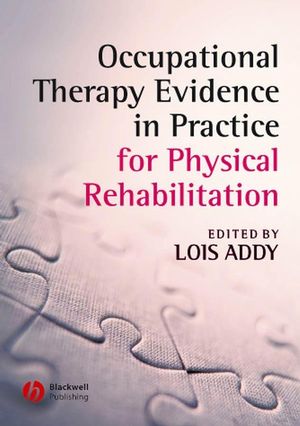 Occupational Therapy Evidence in Practice for Physical Rehabilitation
ISBN: 978-1-405-14687-6
Dec 2006, Wiley-Blackwell
268 pages
Description
Occupational Therapy Evidence in Practice for Physical Rehabilitation provides students and practitioners with an essential textbook that both demonstrates and explains the application of evidence-based practice.


The contributors present case studies taken from their own experience which help to translate the rhetoric of evidence-based practice into real-life clinical settings. The client cases that have been selected demonstrate the realities and complexities of occupational therapy, representing the veracity of typical occupational therapy referrals. A range of physical, social, psychological and cultural needs are represented which are addressed in a variety of settings including the home, school and hospital. In addition, the cases studies are ordered according to lifespan in order to illustrate the subtle variations in practice that are necessary when considering the different occupational demands of children, young adults, adults, and older people.
1 Introduction.
Lois M. Addy.
2 Facilitating the educational inclusion of children with developmental coordination disorder.
Lois M. Addy.
3 Early intervention: facilitating a prompt home discharge following a road traffic accident.
Alis Racey.
4 Enhancing the quality of life for a person living with multiple sclerosis.
Anne Longmore.
5 Protection and preservation: maintaining occupational independence in clients with rheumatoid arthritis.
Ruth MacDonald and Kerry Sorby.
6 Individual support for a person with motor neurone disease.
Amanda Richardson.
7 Travelling the integrated pathway: the experience of a total hip replacement .
Kerry Sorby.
8 Managing risk in the older person who has fallen.
Maria Parks.
9 Enabling participation in occupations post stroke.
Janet Golledge.
10 A reflective challenge.
Alex Clark
"This text offers a unique alternative to educating occupational therapy students on using evidence in their physical rehabilitation"
Occupational Therapy in Healthcare
<!--end-->
"Recommended for anyone undertaking study or involved in developing a clinical service…It is thought provoking and is effective in bringing theory and practice closer together."
OT Insight


Translates the rhetoric of evidence-based practice into real clinical settings

Allows students and practitioners to engage more readily with best practice

Includes worked examples in case study format

Provides coverage that spans a range of client groups and settings