Occupational Therapy and Inclusive Design: Principles for Practice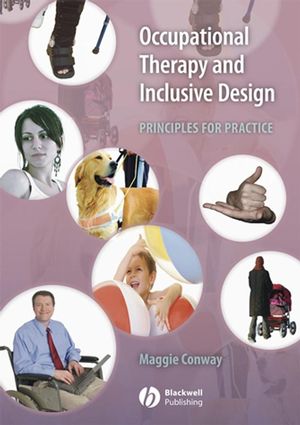 Occupational Therapy and Inclusive Design: Principles for Practice
ISBN: 978-1-405-12707-3 June 2008 Wiley-Blackwell 240 Pages
Download Product Flyer
Download Product Flyer
Download Product Flyer is to download PDF in new tab. This is a dummy description. Download Product Flyer is to download PDF in new tab. This is a dummy description. Download Product Flyer is to download PDF in new tab. This is a dummy description. Download Product Flyer is to download PDF in new tab. This is a dummy description.
Description
Occupational Therapy and Inclusive Design
provides occupational therapy practitioners and students with the ability to confidently problem solve, clinically reason and make sound professional judgements regarding the suitability of products/artefacts and environments for their clients.
The relevance of design concepts to Occupational Therapy are illustrated in a broad context with reference to the folklore of disability and disability discourse, the profession's philosophy, conceptual models of practice, relevant legislation and review of Health and Social Care discourse. Ergonomic tools and techniques for practice are reviewed and related to the seven principles of Universal Design. Case scenarios are presented and illustrated with pictures and drawings to guide the reader through the inclusive design process as it relates to occupational therapists in a variety of settings.

Additionally, the book aims to give a voice to occupational therapists as specifiers of equipment, property adaptations and increasingly, as advisors to new dwelling and other building projects, with the aim of influencing manufacturers and building agencies in the adoption of inclusive design principles at the product/building design phase. This publication's unique focus is to present an integrated account of the relevant policy supporting service provision, in conjunction with core Occupational Therapy philosophy and the application of principles of Universal Design to case scenarios.
Table of contents
PART I SOCIOCULTURAL AND PROFESSIONAL CONTEXT.
Chapter 1 – Cultural Production of Disability.
Chapter 2 – Disability Discourse.
Chapter 3 – Theories and Models of Disability: Overarching Service.
Chapter 4 - Ecological Conceptual Practice Models.
Chapter 5 – Frames of Reference and Approaches Supporting Practice.
PART II INCLUSIVE DESIGN; PRINCIPLES FOR PRACTICE.
Chapter 6 – Knowledge from the Field of Design.
Chapter 7 – Knowledge from the Field of Ergonomics.
Chapter 8 - Applied Examples.
PART III SOCIOPOLITICAL CONTEXT.
Chapter 9- The Sociopolitical Environment.
.
Reviews
"This is an important and indispensable text, providing an informative analysis of the meaning of inclusive design and its relevance to occupational therapy. The author's considerable experience as an occupational therapist, academic and educator, and her specialist knowledge in inclusive design make her well placed to provide an authoritative overview." (
Journal of Occupational Therapy
, March 2009)
"[The book provides] OT's with the theoretical and practical knowledge that will help them understand the principles and benefits of inclusive design." (Access by design, Autumn 2008)
"I would recommend this book to occupational therapists … Its combination of theoretical background and relevant examples makes it highly accessible for practice application." (International Journal of Therapy and Rehabilitation, September 2008)
Features


Case scenarios presented throughout.

Up to date with the latest policy and legislation.