Occupational Therapy for Children with Special Needs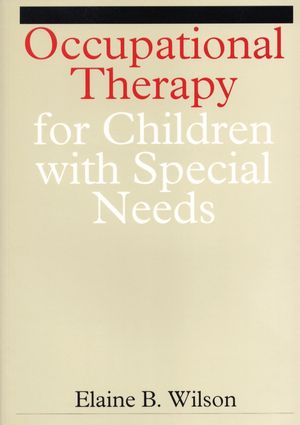 Occupational Therapy for Children with Special Needs
ISBN: 978-1-861-56061-2 June 1998 224 Pages
Description
This highly practical manual, written by therapists with extensive experience in the field, provides a user-friendly reference tool for occupational therapists and others working with children who have problems with learning, co-ordination, speech and language and behaviour. The book presents a model of a recognised approach from which therapists and others can develop specific techniques within a clinical setting, modifying the programme to meet the needs of the individual child. The treatment described has been used successfully by teachers and parents as well as by occupational therapists and OT students.
Table of contents
Part 1. Background to Sensory Integration, Elaine B. Wilson.
Definitions.
Which Children Benefit From Treatment?.
What are The Potential benefits of Treatment?.
Part 2 Assessment Procedures, Helen Edwards.
Defining the Problem, Assessment Procedures.
Ethical Considerations, Assessment rationale.
Selecting Assessment Tools.
Referral and Identification.
Preassessment Organization.
Background History.
Test Environment.
Reporting.
Screening Tests.
Non-standardized Tests.
Standardized Tests.
Tests of Visual perception.
Tests of Self-esteem.
Tests of Handwriting Ability.
Part 3. The treatment Session, Elaine B. Wilson.
How Many Children can you Treat at Once?
Blocks of Treatment.
Regression Effects.
Precautions.
Positive Reinforcers.
Difficulties That may Arise in any Treatment Session.
Management of Behaviour in The Treatment Session.
Parents' Role in Therapy.
Treatment Session.
Lack of progress,.
Managing Specific Deficits.
Treating Children With Other disabilities.
Part 4. Behaviour Management in Young Children - a Therapist's guide for Parents, Joanna Nicklin.
Meeting With Parents.
Family Dynamics.
Tools of Management.
Part 5. Food and Chemical Sensitivities, Jenny Bennett.
My Story.
Sensitivity Symptoms.
Food.
Chemicals.
Bathing and Cleaning.
Altering The Home.
A day in The Life of a Child who is Food- and Chemical-sensitive.