Offence Paralleling Behaviour: A Case Formulation Approach to Offender Assessment and Intervention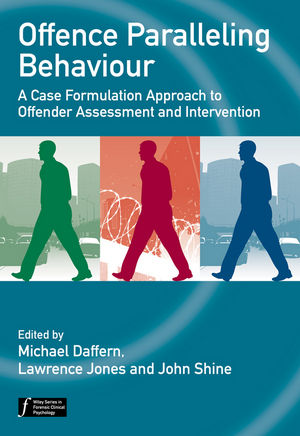 Offence Paralleling Behaviour: A Case Formulation Approach to Offender Assessment and Intervention
ISBN: 978-0-470-74448-2 October 2010 364 Pages
Description
New to the Wiley Series in Forensic Clinical Psychology, Offence Paralleling Behaviour presents an original framework of individualised assessment and treatment methods for clinicians working in the forensic environment.
Provides a framework that helps practitioners to identify and work with offence-relevant behaviour and evidence pro-social change
Describes how Offence Paralleling Behaviour (OPB) can be successfully identified and used in risk assessment and treatment planning
Brings together leading academics and frontline clinicians, including psychiatric nurses, psychologists, psychiatrists, occupational therapists, drug and alcohol specialists, and correctional officers, as well as featuring the views of prisoners on OPB
Presents methods which allow staff to identify and use OPB in clinical practice
About the Editors.
List of Contributors.
Foreword.
Series Editors' Preface.
Editors' Preface.
Acknowledgement.
PART I INTRODUCTION.
1 History of the Offence Paralleling Behaviour Construct and Related Concepts (Lawrence Jones).
2 Case Formulation in Forensic Psychology (Peter Sturmey).
3 Distinctions within Distinctions: The Challenges of Heterogeneity and Causality in the Formulation and Treatment of Violence (Kevin Howells).
PART II THE APPLICATION OF OPB TO ASSESSMENT AND TREATMENT OF CRIMINAL BEHAVIOURS.
4 Approaches to Developing OPB Formulations (Lawrence Jones).
5 Offence Paralleling Behaviour and Multiple Sequential Functional Analysis (David M. Gresswell and David L. Dawson).
6 A Structured Cognitive Behavioural Approach to the Assessment and Treatment of Violent Offenders Using Offence Paralleling Behaviour (Michael Daffern).
7 Applying the Concept of Offence Paralleling Behaviour to Sex Offender Assessment in Secure Settings (Ruth E. Mann, David Thornton, Simone Wakama, Maisie Dyson and David Atkinson).
8 Functional Consistency in Female Forensic Psychiatric Patients: An Action System Theory Approach (Katarina Fritzon and Sarah Miller).
9 The Assessment and Treatment of Offence Paralleling Behaviours in Young Offenders: Added Complications or Greater Opportunities for Change? (Zainab Al-Attar).
10 Offence Analogue Behaviours as Indicators of Criminogenic Need and Treatment Progress in Custodial Settings (Audrey Gordon and Stephen C.P. Wong).
11 Institutional Offence Behaviour Monitoring as an Aid to Community Supervision of High-Risk Offenders: Experience from Multi-Agency Public Protection Arrangements (Cynthia McDougall, Dominic Pearson, Roger Bowles and Judith Cornick).
12 Working with Offence Paralleling Behaviour in a Therapeutic Community Setting (John Shine).
13 A Qualitative Exploration of Offence Paralleling Behaviour: A Prison-based Democratic Therapeutic Community Resident's Perspective (Natalie Bond and Gail Steptoe-Warren).
14 Unlocking Offence Paralleling Behaviour in a Custodial Setting – a Personal Perspective from Members of Staff and a Resident in a Forensic Therapeutic Community (Helen Dowdswell, Geraldine Akerman and Lawrence).
15 Psychiatric Nurses Working with Offence Paralleling Behaviour (Trish Martin).
16 Offenders with Severe Personality Disorder and 'Lifestyle Paralleling Behaviours' (Corinne Spearing, Victoria Wasteney and Phil Morgan).
17 Substance Misuse Paralleling Behaviour in Detained Offenders (Glen Thomas and John Hodge).
18 Evaluating Individual Change (Jason Davies, Lawrence Jones and Kevin Howells).
19 A Psychodynamic Perspective on Offence Paralleling Behaviour (Cleo Van Velsen).
PART III CONCLUSION.
20 Summary and Future Directions (Lawrence Jones, Michael Daffern and John Shine).
Index.