Offender Rehabilitation in Practice: Implementing and Evaluating Effective Programs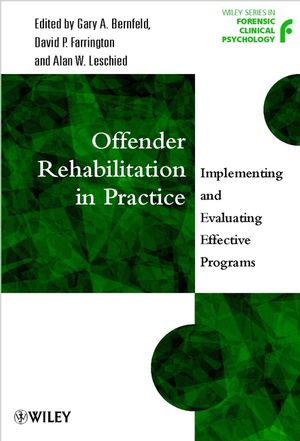 Offender Rehabilitation in Practice: Implementing and Evaluating Effective Programs
ISBN: 978-0-471-72026-3 August 2001 308 Pages
Description
Documented evidence suggests that community safety is best achievedthrough policies promoting human services rather than relyingtotally on prisons and that promoting intervention in anindividual's own environment (known as 'ecological integrity') isclosely associated with effective intervention.

This is the first book to focus on the transfer of knowledge ofworldwide effective offender rehabilitation programs. Prominentresearchers and practitioners in the criminal justice field havecontributed their extensive knowledge of what it takes to implementeffective correctional practices with ecological integrity.


* Reviews "real world" challenges of program effectiveness andsurvival

* Offers effective, evidence based, innovative alternatives toimprisonment of offenders

* Offers a common multi-level systems perspective as a frameworkfor the international case studies featured

* The first book to focus on the transfer of knowledge and bestpractice through the concept of "technology transfer"
About the Editors.

List of Contributors.

Series Editors' Preface.

Preface.

INTRODUCTION.

Implementation Issues (A. Leschied, et al.).

PART I: KEY ISSUES IN CORRECTIONAL EFFECTIVENESS.

What Works in Correctional Intervention? Evidence and PracticalImplications (J. McGuire).

Evaluating the Economic Efficiency of Correctional InterventionPrograms (B. Welsh & D. Farrington).

Evaluating the Effectiveness of Correctional Programs: Bridging theGap Between Research and Practice (F. Losel).

PART II: IMPLEMENTING SPECIFIC PROGRAMS.

A Multi-Level Perspective on the Implementation of MultisystemicTherapy (MST): Attempting Dissemination with Fidelity (D. Edwards,et al.).

Aggression Replacement Training: Application and EvaluationManagement (A. Goldstein & B. Glick).

In Search of Program Implementation: 792 Replications of theTeaching-Family Model (D. Fixsen, et al.).

The Struggle for Treatment Integrity in a "dis-integrated" ServiceDelivery System (G. Bernfeld).

"Straight Thinking on Probation": Evidence-based Practice and theCulture of Curiosity (P. Raynor & M. Vanstone).

Designing, Implementing and Managing Treatment Programs for ViolentOffenders (R. Serin & D. Preston).

PART III: IMPLEMENTING GENERAL PROGRAMS.

Implementing Offender Classification Systems: Lessons Learned (J.Bonta, et al.).

Implementation Guidelines for Correctional Programs in the "RealWorld" (P. Gendreau, et al.).

The Role of the Consultant in Developing Effective CorrectionalPrograms (C. Hollin).

Index.
"...For a reader interested in a broad and theoretical review...this book is to be recommended..." (Forensic Update, July 2002)