Office 2008 for Mac For Dummies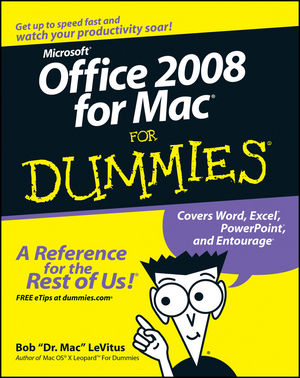 Office 2008 for Mac For Dummies
ISBN: 978-1-118-05247-1
Feb 2011
432 pages
Product not available for purchase
Description
Office 2008 for Mac is here, with great new enhancements to all your favorite office productivity tools. Who better than "Dr. Mac, "Bob LeVitus, to show you how to load and use them all?

From choosing the best version for your needs to managing your life with your online calendar, Office 2008 For Mac For Dummies covers what you need to know. It compares the Student/Teacher Edition, Standard Edition, and Professional Edition, then walks you through installing your preferred version and keeping it up to date. You'll find out all the things you can do with Word, Excel, PowerPoint, and Entourage, and how to use them all together to get the most bang for your Office buck. Get top-flight advice on:
Using the Project Gallery
Creating documents using templates, tables, styles, and text boxes
Checking grammar and using the Thesaurus
Making Web pages with Word
Building slide shows that include sound, movies, and images
Giving your presentation, or exporting it as a movie or PDF
Entering, formatting, and editing data in spreadsheet cells
Sprucing up your charts
Setting up Entourage for e-mail and newsgroups
Coordinating your projects and tracking progress
Whether you're new to Office or moving up from an earlier version, this is the guide for you!
Introduction.
Part I: Introduction to the Microsoft Office 2008 Suite.
Chapter 1: Overview from 10,000 Feet.
Chapter 2: A Sweet Suite: Introducing the Office 2008 Applications.
Chapter 3: Common Knowledge: Things That Work the Same in All Office Applications.
Part II: Mastering Microsoft Word.
Chapter 4: Getting to Know Microsoft Word.
Chapter 5: Processing Documents with Word.
Chapter 6: Refining and Editing Documents with Word.
Chapter 7: Going for the Designer Look: Using Templates and Other Design Elements.
Chapter 8: This and That: Advanced and Collaboration Features.
Part III: Powerful Presentations with Microsoft PowerPoint.
Chapter 9: Getting to Know Microsoft PowerPoint.
Chapter 10: Creating Slide Shows.
Chapter 11: Making Your Slide Shows Sing.
Chapter 12: Presentation Mastery.
Part IV: Crunching Data with Microsoft's Most Excellent Excel.
Chapter 13: Getting to Know Microsoft Excel.
Chapter 14: Crunching Numbers (and Data) with Excel.
Chapter 15: Enhancing and Printing Your Excel Spreadsheets.
Chapter 16: Advanced Spreadsheeting.
Part V: Microsoft Entourage: Miraculous Manager of Most Things.
Chapter 17: Getting to Know Entourage.
Chapter 18: Entourage Online.
Chapter 19: Managing Your Affairs with Entourage.
Chapter 20: Getting Advanced with Entourage.
Part VI: The Part of Tens.
Chapter 21: Ten Things in Office 2008 That Didn't Fit Elsewhere.
Chapter 22: Ten Timesaving Shortcuts and Tips for Enhanced Productivity.
Chapter 23: Ten Ways to Customize Office.
Index.