Office XP Bible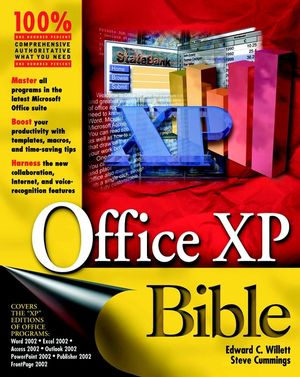 Office XP Bible
ISBN: 978-0-764-53592-5
Aug 2001
1392 pages
Product not available for purchase
Description
This is a comprehensive reference covering all the major components of Office: Word, Excel, Access, Outlook, PowerPoint, FrontPage, and Publisher. This edition also includes parts on integrating and automating Office tasks and using the latest Office tools such as Internet connectivity options and voice recognition. Plus, you can count on Office XP Bible for coverage of the newest features in Microsoft Office XP.
Preface.

Acknowledgments.

PART I: Quick Start.

Chapter 1: Welcome to Your New Office!

Chapter 2: Getting Started with Popular Office Applications.

PART II: Getting the Most out of Office.

Chapter 3: Getting Office Up and Running.

Chapter 4: Making the User Interface User-Friendly.

Chapter 5: Suit Yourself: Customizing Office.

Chapter 6: Office Collaboration: Playing Nice with Others.

Chapter 7: Running Office on a Network.

PART III: Building Great Documents with Office XP.

Chapter 8: The Power of Polished Text.

Chapter 9: Getting Graphical.

Chapter 10: Using Active Documents.

Chapter 11: Sharing Information.

Chapter 12: Advanced Document Management.

Chapter 13: Printing: From Screen to Paper.

Chapter 14: Document Integrity and Security.

PART IV: Creating Effective Documents with Word.

Chapter 15: Power Customizing Word.

Chapter 16: Making Text Work for You.

Chapter 17: Expert Editing.

Chapter 18: Saving Time with Styles and Templates.

Chapter 19: Organizing Information with Outlines, Tables of Contents, and Indexes.

Chapter 20: Working with Others on Word Documents.

Chapter 21: A Dream of Fields.

Chapter 22: Word Power Programming.

PART V: Crunching Numbers Efficiently with Excel.

Chapter 23: Power Customizing Excel.

Chapter 24: Advanced Navigation and Selection.

Chapter 25: Essentials of Editing and Formatting.

Chapter 26: Formulas and Functions.

Chapter 27: Charting New Territory.

Chapter 28: Analyzing Data.

Chapter 29: Debugging Your Worksheets.

Chapter 30: Excel Power Programming.

PART VI: Communicating and Organizing with Outlook.

Chapter 31: Outlook Overview.

Chapter 32: Managing Messages Efficiently.

Chapter 33: More Than Text: Advanced Messaging.

Chapter 34: Keeping Track of Contacts.

Chapter 35: Managing Your Time with Calendar.

Chapter 36: Using Journals and Notes.

PART VII: Presenting Your Thoughts Powerfully with PowerPoint.

Chapter 37: Powerful Presentations.

Chapter 38: Saving Time with Templates and Wizards.

Chapter 39: Sprucing Up Your Presentation with Graphics and Special Effects.

Chapter 40: Creating and Organizing a Slide Show.

PART VIII: Designing Dazzling Publications with Publisher.

Chapter 41: Introducing Publisher.

Chapter 42: Advanced Publisher Techniques.

PART IX: Creating and Managing a Wonderful Web Site with FrontPage.

Chapter 43: Designing Web Pages with FrontPage.

Chapter 44: Managing Your Web Site.

Chapter 45: Creating Web Pages in Other Office Applications.

PART X: Managing and Manipulating Data with Access.

Chapter 46: Getting Inside Access.

Chapter 47: Fundamentals of Access.

Chapter 48: Secrets of Database Application Design.

Chapter 49: Working with Data Using VBA.

Chapter 50: Designing Access Forms.

PART XI: Tapping the Programming Power of VBA.

Chapter 51: Basic Visual Basic for Applications.

Chapter 52: Using the Visual Basic Editor.

Chapter 53: Writing Great VBA Modules.

Chapter 54: Object-Oriented Programming with VBA.

Chapter 55: Unbreakable Code: Debugging and Error Trapping.

Chapter 56: Getting Interactive: Custom Dialog Boxes.

Chapter 57: Building Power Applications.

Appendix: Finding Office Information on the Web.

Index.
Bonus Content
Bonus Content
Welcome to the Office XP Bible Web site! We're glad you found your way here and hope you will find this site a useful supplement to the book and of particular use in helping you learn to customize Office XP using VBA (Visual Basic for Applications).
On this site, you will find some of the longer VBA code examples and macros in the print version of the Office XP Bible. They are presented here to make it easy for you to retrieve the samples and plug them into your Visual Basic Editor without having to do all the typing yourself. The code listings are arranged by chapter and titled with a brief explanation of what the code does, so you can easily find the exact listing you need. Further instructions on what to do with the code you retrieve from this Web site exist in the text surrounding the code samples in the individual chapters of the book.
Thanks again for visiting the site. We're certain you'll find the material posted here useful and this Web site a great tool that helps you get the most out of your Office XP Bible. Good luck!
The OfficeXP.zip file, available on the downloads page from the menu on the left, contains all the code from the Office XP Bible. Download the file and use WinZip (www.winzip.com) to extract the samples to your system using WinZip's default options. Be sure to confirm that the Use Folder Names option is checked. As long as the Use Folder Names option is checked in the Extract dialog box, the entire folder structure will be retained within the folder you extract to.