Office for Mac 2011 Portable Genius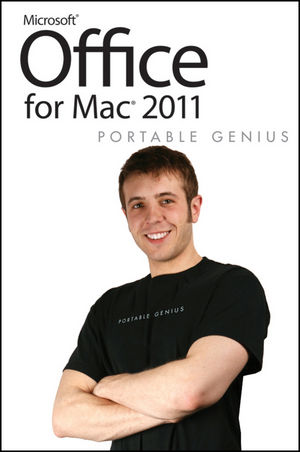 Office for Mac 2011 Portable Genius
ISBN: 978-1-118-01904-7
Nov 2010
336 pages
Description
A savvy guide to Office 2011 for Mac users

Mac users, you don't have to give up one ounce of cool to use Office 2011 on your Mac. Here's the hip guide you need to get the most out of Word, Excel, PowerPoint, and Outlook. Get started with Office 2011, find out what features are shared between apps, and start creating stylish Word docs, lively PowerPoint presentations, awesome Excel reports, and totally organized Outlook lists and calendars. And you'll love the portable size—just perfect for keeping this guide on hand while you work.
Features facts, tips, and secrets to help you get the most of out of Office  2011 for Mac
Provides the key tools and shortcuts you need to accomplish tasks, without bogging you down in too much detail
Covers how to get started with Office, an overview of shared features, and how to use each application in the Office 2011 suite
Helps you create smart Word docs, organize your calendar and contacts with Outlook, build compelling PowerPoint presentations, and use Excel formulas and functions to generate reports and analyze data
Zero in on the Office 2011 features you use most on your Mac, with Office 2011 for Mac Portable Genius.
Chapter 1. What Are the First Things I Need to Know?
Chapter 2. What Can I Do with the Toolbox, Media Browser, and the Ribbon?
Chapter 3. How Can I Set Up My New Documents in Word?
Chapter 4. How Can I Spice Up My Documents?
Chapter 5. How Can I Use Word More Efficiently?
Chapter 6. How Do I Create Spreadsheets with Excel?
Chapter 7. How Can I Use Excel Formulas?
Chapter 8. How Can I Augment My Spreadsheets?
Chapter 9. How Do I Create a PowerPoint Presentation?
Chapter 10. How Can I Add Some Pizzazz to My Presentations?
Chapter 11. How Do I Give a Presentation?
Chapter 12. How Do I Begin Using Outlook?
Chapter 13. How Do I Optimize My Outlook E-mail?
Chapter 14. How Can I Organize Contacts and Tasks?
Chapter 15. How Can I Work More Efficiently?
Chapter 16. What Other Applications Are Part of Office 2011?
Chapter 17. How Can I Get Help with Office 2011?