Offices at Work: Uncommon Workspace Strategies that Add Value and Improve Performance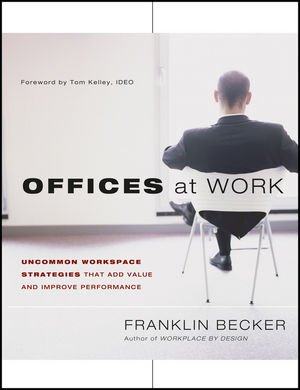 Offices at Work: Uncommon Workspace Strategies that Add Value and Improve Performance
ISBN: 978-1-118-30917-9
Oct 2004, Jossey-Bass
224 pages
Description
Most Fortune 500 companies still struggle with workplace planning and design issues. Millions of dollars are invested each year by companies with the expectation that new buildings and major renovations will help transform their culture, spark innovation, and herald new work patterns that strengthen performance while reducing costs. But, as Franklin Becker points out, popular trends do not always make good sense. Offices at Work addresses the fundamental design issues that organizational leaders confront such as:
How do we create a low-cost flexible environment that motivates employees and stimulates learning?
Is it worth our spending the time, money, and effort to consolidate our disparate buildings into a new corporate campus?
How else can we address status concerns besides giving people offices?
Order your copy today!
Foreword xi
Acknowledgments xiii
Introduction xvii
PART ONE: PRINCIPLES OF WORKSPACE DESIGN 1
1 The Office as Invention 3
2 Knowledge Networks 11
3 Co-Location 35
4 The Right Size 45
5 Mobility 58
6 Flexibility 77
PART TWO: GUIDELINES FOR IMPLEMENTATION 109
7 Getting Started 111
8 Workspace Planning Tools 125
9 Measuring Performance 144
10 Managing Workspace Change 159
11 The Value of Uncommon Sense 175
References 186
The Author 190
Index 191
Author Platform: Becker's name is widely recognized nationally and internationally by anyone who has anything to do with the planning, design, and management of the office workplace. He speaks widely at conferences, has a number of Fortune 500 clients, frequently writes articles for industry publications such as Facilities Management Journal, and teaches classes on this subject.
Foreword by Tom Kelley: Kelley is a big fan of Becker's book, Workplace by Design, and called it "the best thing ever written about workspace."
Broad Marketing Appeal: This book can be marketed to audiences in business, HR, real estate, facilities management, and architecture.