Official SWiSHmax Bible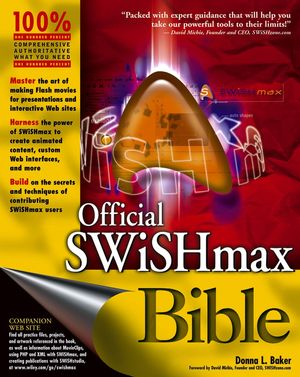 Official SWiSHmax Bible
ISBN: 978-0-764-57563-1
Dec 2004
696 pages
Product not available for purchase
Description
Developed and comarketed with SWiSHzone.com, this first-ever SWiSHmax book is packed with tips, techniques, and secrets from the world's top SWiSHmax users
SWiSHmax offers an easy, intuitive interface that lets Web designers create cool Flash movies, effects, and even games-without learning Flash or ActionScript
SWiSHmax is the premier product of SWiSHzone.com, which reports 500,000 unique visitors a month, 3 million downloads, and 200,000 registered users
A companion Web site is packed with examples and templates from the book, exclusive SWiSH content, and a tryout version of SWiSHmax
Foreword.
Acknowledgments.
Introduction.
Part I: Getting Started with SwiSHmax.
Chapter 1: SWiSHmax QuickStart.
Chapter 2: Welcome to SwiSHmax.
Chapter 3: Starting a New Movie Project.
Part II: The Basic SWiSHmax Building Blocks.
Chapter 4: Viewing a Movie's Content.
Chapter 5: Drawing in SwiSHmax.
Chapter 6: Modifying Basic Shapes.
Chapter 7: Choosing and Using Color.
Chapter 8: Working with Images.
Chapter 9: Using Animations and Flash Movies in SwiSHmax.
Chapter 10: Working with Text.
Chapter 11: Adding Sound.
Part III: Animating Your Movie.
Chapter 12: Introducing Movie Effects.
Chapter 13: Using Basic and Authored Effects.
Chapter 14: Customizing Core Effects.
Part IV: Exploring SWiSHmax Objects.
Chapter 15: Creating Sprite and Instance Objects.
Chapter 16: Building Buttons.
Part V: Adding Interactivity to a Movie.
Chapter 17: Writing Scripts in the Script Panel.
Chapter 18: Understanding Events.
Chapter 19: Applying Actions to Control a Movie.
Part VI: Distributing SWiSHmax Movies.
Chapter 20: Testing Movies and Preparing for Export.
Chapter 21: Exporting SWiSHmax Movies.
Chapter 22: Using SWiSHmax SWF Movies in Other Programs.
Part VII: Sample Projects.
Chapter 23: Building Menus.
Chapter 24: Welcome to Preloaders.
Chapter 25: Constructing a Web Site Interface.
Chapter 26: Constructing a Shopping Cart Using SWiSHmax and PHP.
Chapter 27: Building a SWiSHmax Image Gallery.
Chapter 28: Building a Daily Horoscope in SwiSHmax.
Part VIII: Appendixes.
Appendix A: About the Contributors.
Appendix B: Web Sites of Interest.
Appendix C: Menus, Toolbars, and Keyboard Accelerators.
Appendix D: SWiSHmax Effects.
Index.
Chapters 1-8


Downloadable files for chapters 1-8 in a ZIP compressed archive.

If you are unable to open ZIP compressed files, you can download a free trial of WinRAR or WinZip.

Download
Chapters 9-10


Downloadable files for chapters 9-10 in a ZIP compressed archive.

Download
Chapter 11


Downloadable files for chapter 11 in a ZIP compressed archive.

Download
Chapters 12-19


Downloadable files for chapters 12-19 in a ZIP compressed archive.

Download
Chapter 20


Downloadable files for chapter 20 in a ZIP compressed archive.

Download
Chapter 21


Downloadable files for chapter 21 in a ZIP compressed archive.

Download
Chapter 22


Downloadable files for chapter 22 in a ZIP compressed archive.

Download
Chapters 23-24


Downloadable files for chapters 23-24 in a ZIP compressed archive.

Download
Chapter 25


Downloadable files for chapter 25 in a ZIP compressed archive.

Download
Chapters 26-28


Downloadable files for chapters 26-28 in a ZIP compressed archive.

Download
Appendix E


Downloadable files for Appendix E in a ZIP compressed archive.

Download
Appendix F-G


Downloadable files for appendices F-G in a ZIP compressed archive.

Download
Bonus Appendices


Appendices E-H stored in Adobe's PDF format.

If your computer is not able to read PDF files, you will need to download and install Adobe's free Reader.

Download
Chapter
Page
Details
Date
Print Run
1
QuickStart Project


One of the objects in the QuickStart project is an image of an airplane, which moves across the screen from bottom left to upper right. In the sample project, the scale of the image was changed as well.

The effect is added in the set of steps on pages 16 and 17. Follow the existing steps in the chapter, and then follow these steps to modify the scale of the image as the Slide Out to Top Right effect occurs in the movie:

Double-click the effect's rectangle on the Timeline to open the Slide Out to Top Right Dialog box.
Click the Motion tab.
Click the Unchanged button to open a list of options; and click Resize to scale. The button's name changes to X scale and a Resize to scale field displays to the right of the button.
Type 200 in the field.
Click Close to close the dialog box.

When you play the movie, you see the airplane gradually increase in size as it moves across the screen.

01/08/2005

---

25
539
Correction to Caution statement regarding loading external images in SWF
Caution on page 539 reads: "Make sure the JPEG image uses a non-progressive format. In order to load an external image, you must use SWF version 6." Correction: You can load an external image using any SWF version.
2/4/05

---