Oil Panic and the Global Crisis: Predictions and Myths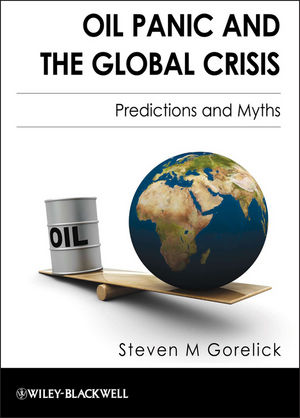 Oil Panic and the Global Crisis: Predictions and Myths
ISBN: 978-1-444-35989-3 August 2011 Wiley-Blackwell 256 Pages
Description
Is the world running out of oil? This book analyzes predictions of global oil depletion in the context of science, history, and economics.
There has been continuing alarm about the imminent exhaustion of earth's non-renewable resources. Yet, the world has never run out of any significant, globally traded, non-renewable resource. Is the world finally facing a non-renewable resource depletion catastrophe, or is the current concern just another one of a succession of panics? In this book, key assumptions and underlying arguments in the global oil-depletion debate are first summarized and then challenged. Facts about oil supply, production, and consumption are made accessible using concise and simple graphics.
Concepts of resource depletion, end-use needs, technology leap-frogging, efficiency, and substitution are used to evaluate historical patterns of exploitation of non-renewable resources and to explore what history suggests about our future dependence on oil.
This book is aimed at a broad range of readers,from undergraduate students studying resource science and economics to anyone interested in understanding the context of the controversy over global oil depletion.
"It is a book serious students of the world oil market should read, not because Gorelick has all the answers but because his account is well reasoned, well informed, and argued honestly, with respect for responsible opposing viewpoints."
Book Review, Science, May 2010
Table of contents
Preface
ix
Acknowledgments x
About Units xi
Getting Started: What Do You Think? xiii
1 End of the Oil Era 1
Cause for Concern 1
Hubbert's Curve 4
The Appeal of Hubbert's Curve 10
Hubbert's Success 11
US Oil Dependence Since Peak Production 12
Chapters Ahead 13
Notes and References 13
2 The Global Oil Landscape 16
Introduction 16
Defi nitions 17
Petroleum Composition and Energy Density 18
Why a Barrel Is a bbl 20
The Oil Business 20
OPEC 23
How Much Oil Is There? The USGS Assessment 26
From the USGS Assessment to 2009 29
Reserves 31
Where Is Oil Produced? 32
Where Is Oil Consumed? 33
Oil Imports 35
After Oil Is Produced 37
Oil Production Versus Consumption 38
Oil Quality 40
Oil Pricing by Quality 40
Gasoline 41
What Determines the Price of Gasoline at the Pump? 41
The Price of Gasoline 44
Gasoline Price Elasticity: What Happens When the Price Goes Up (or Down)? 45
Gasoline Price Variability 47
Points to Take Away 49
Notes and References 51
3 The Historical Resource Depletion Debate 58
The Malthusian Doctrine 58
The Limits to Growth 59
The Oil Panics of 1916 and 1918 62
Panic Revisited: The Oil Crisis of the 1970s 63
Arguments Supporting Global Oil Depletion 65
Declining Oil Production in Countries in Addition to That in the US 65
Production Exceeds Discoveries 66
Reserve and Endowment Estimates are Inflated 67
Industry Exaggeration of Reserves 69
Fewer Giant Fields Discovered and Production is Declining 70
Decline in Discovery and Oil Drilling Suggests Onset of Production Decline 72
Global Industrial Development and Oil Consumption 74
The Price of Oil is Increasing: Does This Indicate Scarcity? 77
Forecasts Support a Decline in Global Production Using Extensions to Hubbert's Approach 80
Summary 81
Notes and References 82
4 Counter-Arguments to Imminent Global Oil Depletion 87
Myth I: Hubbert's Predicted Production Rates Were Accurate 87
US Oil Production 88
The Bell-Shaped Curve 93
US Natural Gas Production 95
Global Oil Production 95
Myth II: A Decline in Production Necessarily Indicates Scarcity 98
Commodity Scarcity 98
Generalizing the Debate: Resource Economists versus Neo-Malthusians 103
Back to Oil 110
Scarcity Rent 116
Myth III: Resource Assessments Provide Useful Endowment Estimates 118
The Missing Mass Balance 123
Counter-Argument to OPEC and Industry Exaggeration of Reserves 124
Myth IV: After So Much Exploration, There Is Little Oil Left To Be Found 126
US Oil: Reserves 126
US Oil: Discoveries 128
Global Oil: Reserves 132
Global Oil: Discoveries 138
Russian and Global Arctic Oil 144
Myth V: The World Cannot Afford Increases in Oil Use as Developing Nations Demand More Oil 146
Future Demand of Developing Nations 146
Oil Expenditures in the World Economy 153
Myth VI: There Are No Substitutes for Oil 156
The Gold Resource Pyramid 156
The Oil Resource Pyramid 160
The US and Global Oil Resource Pyramids 161
Three Unconventional Oil Substitutes 165
US heavy oil 165
Global heavy oil 166
US oil sands 168
Global oil sands 168
US oil shale 170
Global oil shale 172
Fossil Fuel Conversion: The Role of Gas and Coal 173
The Importance of Diesel 175
Synthetic Fuel from Coal and Natural Gas 175
Natural Gas Resources 177
Coal Resources 180
Chapter Summary 181
Notes and References 183
5 Beyond Panic 195
The Non-Renewable Resource Model 195
Where Is an Effi ciency Gain Possible? 196
Will Increases in Effi ciency Indeed Reduce Demand? 199
Two scenarios for developing nations 204
What Might Ultimately Substitute for Oil? 207
Consideration 1: Cost of dependence on imported oil 208
Consideration 2: Gasoline and atmospheric carbon dioxide emissions 209
Consideration 3: Alternatives 210
Ethanol 211
Biodiesel 212
Leapfrogging to an ultimate substitute 213
Effects of a US move to oil alternatives 215
The State of Oil Resources 219
Ending Thoughts 221
Notes and References 225
Index 231
Reviews
"He writes so from a position of strength having spent years analysing industry data and I find it difficult not to be swayed by the force of his honest arguments." (Oilholics Synonymous Report, September 2010)
It is a book serious students of the world oil market should read, not because Gorelick has all the answers but because his account is well reasoned, well informed, and argued honestly, with respect for responsible opposing viewpoints." (
David Lloyd Greene, Science, May 2010)
"The book is a refreshing and methodical expose´ of the most common myths about oil that many of us hold as truths. Gorelick weaves an intriguing story from what might have been a dreadfully boring, yet impressive collection of data and observations. It was a pleasure to read and learn from this book, which I highly recommend to experts and  non-experts alike, particularly our leaders in government." (Kenneth E. Peters, Geofluids, 2010)
"In all my years as a journalist who has written on oil and  follows the crude markets closely, I feel this book is the most engaging, detailed and well written one that I have come across in its genre. I am happy to recommend it to commodities professionals, economists, students and just about anyone interested in reading up on the oil depletion debate." (Gaurav Sharma, Infrastructure Journal 2010)
"Professor Gorelick's book is a valuable contribution to the debate about peak oil and could profitably be read by anybody requiring a pathway through the economic and political smokescreens which have grown up around the topic." (Geo Expro, September 2010)