Oilfield Chemistry and its Environmental Impact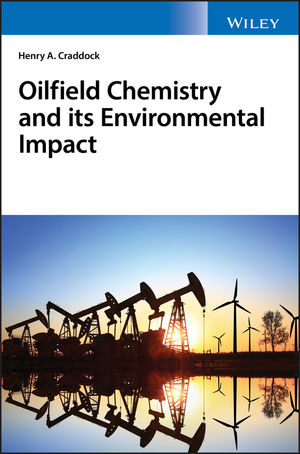 Oilfield Chemistry and its Environmental Impact
ISBN: 978-1-119-24423-3 May 2018 576 Pages
Description
Consolidates the many different chemistries being employed to provide environmentally acceptable products through the upstream oil and gas industry
This book discusses the development and application of green chemistry in the oil and gas exploration and production industry over the last 25 years — bringing together the various chemistries that are utilised for creating suitable environmental products. Written by a highly respected consultant to the oil and gas industry — it introduces readers to the principles and development of green chemistry in general, and the regulatory framework specific to the oil and gas sector in the North Sea area and elsewhere in the world. It also explores economic drivers pertaining to the application of green chemistry in the sector.
Topics covered in Oilfield Chemistry and its Environmental Impact include polymer chemistry, surfactants and amphiphiles, phosphorus chemistry, inorganic salts, low molecular weight organics, silicon chemistry and green solvents. It also looks at sustainability in an extractive industry, examining the approaches used and the other methodologies that could be applied in the development of better chemistries, along with discussions about where the application of green chemistry is leading in this industry sector.
Provides the reader with a ready source of reference when considering what chemistries are appropriate for application to oilfield problems and looking for green chemistry solutions
Brings together the pertinent regulations which workers in the field will find useful, alongside the chemistries which meet the regulatory requirements
Written by a well-known specialist with a combined knowledge of chemistry, manufacturing procedures and environmental issues
Oilfield Chemistry and its Environmental Impact is an excellent book for oil and gas industry professionals as well as scientists, academic researchers, students and policy makers.
Table of contents
Preface xix
1 Introduction and History 1
1.1 Demulsifiers 2
1.2 Corrosion Inhibitors 3
1.3 Drilling Fluids and Additives 4
1.4 Cementing 5
1.5 Well Stimulation and Improving Recovery 6
1.6 Water Treatments 8
1.7 Crude Oil Treatments 11
1.8 Other Chemical Products 13
1.9 Oilfield Chemistry 14
References 15
2 Polymer Chemistry 21
2.1 General Organic Polymers: Synthetic Polymers 23
2.2 Natural Polymers and Related Materials 46
2.3 Dendritic Polymers and Other Unclassified Polymers 68
2.4 Plastics, Fibres, Elastomers and Coatings 71
2.5 Polymer Application and Injection 73
2.6 Polymer Degradation and Biodegradation 76
2.7 Polymer Recycling and Reuse 91
2.8 Sustainable Polymers 92
References 93
3 Surfactants and Amphiphiles 111
3.1 How Surfactants Work 114
3.2 Anionic Surfactants 126
3.3 Non]ionic Surfactants 142
3.4 Cationic Surfactants 162
3.5 Amphoteric Surfactants 167
3.6 Polymeric and Other Surfactant Types 172
3.7 Biosurfactants, Natural Surfactants and Some Environmental Considerations 176
3.8 Oilfield Dispersants 179
3.9 Degradation, Biodegradation and Environmental Fate of Surfactants 181
References 190
4 Phosphorus Chemistry 211
4.1 Phosphates 212
4.2 Phosphonates and Phosphonic Acid Derivatives 214
4.3 Polyphosphonates 217
4.4 Phosphino Polymers and Polyphosphinate Derivatives 219
4.5 Phosphoric Esters (Phosphate Esters) 220
4.6 Phosphonium Quaternary Salts and Related Compounds 221
4.7 Phospholipids 223
4.8 Biophosphorus Chemistry and Environmental Considerations 224
References 227
5 Metals, Inorganic Salts and Other Inorganics 233
5.1 Alkali Metal Salts and Related Materials 233
5.2 Aluminium and Its Salts 247
5.3 Barium Salts 251
5.4 Boron and Its Compounds 253
5.5 Calcium and Its Salts 254
5.6 Halogens 258
5.7 Iron and Its Salts 265
5.8 Zinc and Its Salts 268
5.9 Other Metals, Other Inorganics and Related Compounds 270
5.10 Environmental Issues Relating to Metals and Inorganics 288
References 290
6 Low Molecular Weight Organic Chemicals and Related Additives 307
6.1 Organic Acids, Aldehydes and Related Derivatives 308
6.2 Alcohols, Thiols, Ethers and Amines 325
6.3 Nitrogen Heterocycles 340
6.4 Sulphur and Oxygen Heterocycles 349
6.5 Other Heterocycles 351
6.6 Natural Products and Biological Molecules 355
6.7 Other Non]classified Products 363
6.8 Environmental Impact of Low Molecular Weight Organic Molecules 366
References 367
7 Silicon Chemistry 385
7.1 Silica 386
7.2 Silicates 389
7.3 Silicones and Silicone Polymers 394
References 400
8 Solvents, Green Solvents and Formulation Practices 405
8.1 How Solvents Work 405
8.2 Oilfield Solvents 407
8.3 The Environmental Impact of Solvents and Green Solvents 422
8.4 Formulation Practices 426
9 The Regulation and Control of the Use and Discharge of Chemicals in the Oilfield 457
9.1 Chemical Regulation in Europe: The OSPAR Treaty 458
9.2 Chemical Regulation in the United States 464
9.3 Chemical Regulation in Canada 467
9.4 Chemical Regulation in Australia 468
9.5 Other National Authorities 469
9.6 Conclusions and Critique 469
9.7 Further Conclusions 481
References 484
10 Sustainability and 'Green' Chemistry 489
10.1 Sustainability and Sustainable Development 489
10.2 Sustainable Development in the Oil and Gas Sector 491
10.3 The Environmental Fate of Chemicals in the Upstream Oil and Gas Sector 504
10.4 Environmental Pollution in the Oil and Gas Sector and Its Control 511
10.5 Life Cycle Management 513
10.6 'Green' Chemistry 515
10.7 The Future of Oilfield Chemicals and Some General Conclusions 522

Index 535