On Critique: A Sociology of Emancipation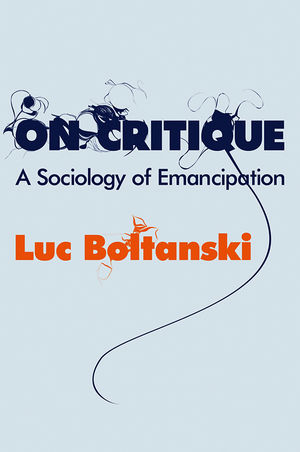 On Critique: A Sociology of Emancipation
ISBN: 978-0-745-68353-9 October 2013 Polity 200 Pages
Description
The relationship between sociology and social critique has haunted the discipline since its origins. Does critique divert sociology from its scientific project? Or is critique the ultimate goal of sociology, without which the latter would be a futile activity disconnected from the concerns of ordinary people? This issue has underpinned two divergent theoretical orientations that can be found in the discipline today: the critical sociology that was developed in its most elaborate form by Pierre Bourdieu, and the pragmatic sociology of critique developed by Luc Boltanski and his associates.
In critical sociology, description in terms of power relations underscores the potency of mechanisms of oppression, the way the oppressed passively endure them, going so far in their alienation as to
adopt the values that enslave them. Pragmatic sociology, by contrast, describes the actions of human beings who rebel but who are endowed with reason. It stresses their ability, in certain historical conditions, to rise up against their domination and construct new interpretations of reality in the service of critical activity.
In this major new book Boltanski develops a framework that makes it possible to reconcile these seemingly antagonistic approaches - the one determinist and assigning the leading role to the enlightening science of the sociologist, the other concerned to stick as closely as possible to what people say and do. This labour of unification leads him to rework central notions such as practice, institution, critique and, finally, 'social reality,' all with the aim of contributing to a contemporary renewal of practices of emancipation.
Table of contents
Preface
1 The Structure of Critical Theories
2 Critical Sociology and Pragmatic Sociology of Critique
3 The Power of Institutions
4 The Necessity of Critique
5 Political Regimes of Domination
6 Emancipation in the Pragmatic Sense
Reviews
"This work of depth and originality represents a major step in Luc Boltanski's remarkable intellectual trajectory. Having moved from Bourdieusian 'critical sociology' to pragmatic 'sociology of critique,' Boltanski now seeks to develop a third approach, overcoming the weaknesses of both. The result is a powerful conception of critique, grounded in the radical uncertainty that underlies social life and in the contradictory efforts of institutions to defuse it. On Critique seals his reputation as the leading philosophical sociologist of our era."
Nancy Fraser, New School for Social Research
"With surprising sociological imagination, Boltanski shows how the critique of institutions is based on the everyday experience of a discrepancy between reality and the world, between what is socially defined and what could be possible in an undefined way. Without intending to, Boltanski revitalizes Adorno's insights in a sociological manner. This book is to be read by everyone interested in the future of critical theory."
Axel Honneth, Johann Wolfgang Goethe University, Frankfurt
Features
This is a major new work of social theory by one of the leading sociologists in France today. Formerly a close collaborator of Pierre Bourdieu, Luc Boltanski has gone on to develop his own distinctive brand of critical, pragmatic sociology.
His recent book The New Spirit of Capitalism is widely recognized as a major work.
On Critique is a succinct statement of the guiding themes of Boltanski's work. It examines the relationship between sociology and social critique and proposes a highly original way of thinking through this relationship, reworking key notions like practice, critique and emancipation.
This book will be widely seen as a cutting-edge work of contemporary social theory. It will be essential reading for advanced students and graduates in sociology and the social sciences generally.