On Friendship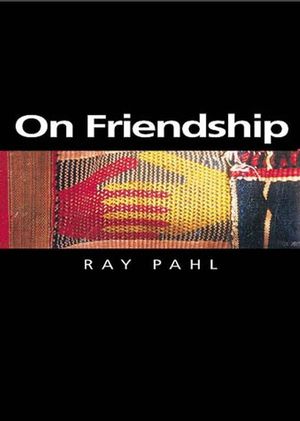 On Friendship
ISBN: 978-0-745-62280-4 October 2000 Polity 200 Pages
Description
Friends can help to form the basic structure of our lives but we very often take them for granted. Friends can sometimes be regarded as an oppressive burden when they appear to be greedily demanding too much of us. How to get the balance right is a perennial concern and the subject of much fiction and drama.

But has this always been the case or is the nature and meaning of friendship changing in contemporary society? Ray Pahl explores these issues as well as discussing who needs friends most and when, how friends make us the people that we are and whether friendship is a new metaphor for morality.

Pahl brings refreshing new insights to a form of relationship that has changed in its meaning and significance since the classical discussion by Aristotle. Drawing on a wide range of material, including history, philosophy, psychology and sociology, he focuses it into distinctive shafts of light which illuminate different aspects of this rich and multi-faceted topic.

Understanding friendship is important at the private level, as we struggle with the problem of personal identity in a kaleidoscopic world, and also at the public level where inappropriate friendship emerges as cronyism or subtle varieties of political corruption.

This accessible jargon-free book will appeal to a wide readership, since it does much to illuminate a fascinating topic at many different levels.
Table of contents
Preface.

Introduction Chapter one: What is Friendship?;.

Chapter Two: Friendship, Modernity and Trust;.

Chapter Three; Friendship and the Self;.

Chapter Four: Friendship in Context,.

Chapter Five: Social Support, Social Capital and the Politics of Friendship.

Conclusion.

Further Reading.

More Detailed References.

Index
Reviews
'The success of books can be measured by their imagery. Ray Pahl, in this eloquent essay on the value and virtues of friendship, provides two images that stay in the mind. The first is of friendships as social convoys that accompany you through the hazards of life. The second is of friendships as personal communities, in which identity can be affirmed, and intimacy explored. Through both images you can clearly see the significance of circles of friends - never more important than in the confusions and complexities of the contemporary world.' Jeffrey Weeks,
Professor of Sociology, South Bank University London
<!--end-->

'Pahl, a warmly readable sociologist, muses over ideas of friendship found in thinkers such as Aristotle, La Rochefoucauld and Hume, and also those implied in literature and modern fiction. In a rather lovely image, he sees our set of friends as a "social convoy" that helps us on our way through life.' Steven Poole, The Guardian

"What differentiates this book from other recent research and writing on friendship is that Pahl account of, and approach to, friendship is wide-ranging and unconstrained by disciplinary boundaries. The different literatures and traditions covered in this slim volume highlight the many sources from which information on friendship can be gained, including media commentary and analysis, psychological and philosophical literature and political and social theory." British Journal of Sociology
Features
An original and topical essay on one of the most important aspects of personal lifeThe book offers an historical account as well as a contemporary understanding of the nature of friends and friendshipRay Pahl is a leading sociologist with an international reputation.