On the Logic of the Social Sciences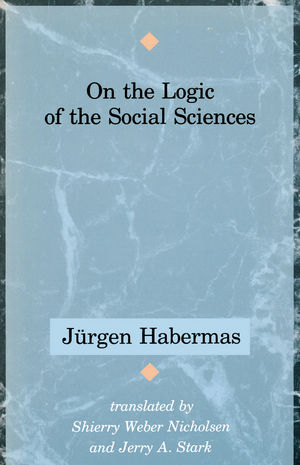 On the Logic of the Social Sciences
ISBN: 978-0-745-69413-9 October 2015 Polity 236 Pages
Description
In this wide-ranging work, now available in paperback, Habermas presents his views on the nature of the social sciences and their distinctive methodology and concerns. He examines, among other things, the traditional division between the natural sciences and the social sciences; the characteristics of social action and the implications of theories of language for social enquiry; and the nature, tasks and limitations of hermeneutics. Habermas' analysis of these and other themes is, as always, rigorous, perceptive and constructive.
This brilliant study succeeds in highlighting the distinctive characteristics of the social sciences and in outlining the nature of, and prospects for, critical theory today.
Introduction.
Translator's Note. Preface.
Part I. The Dualism of the Natural and Cultural Sciences:.
1. A Historical Reconstruction.
2. Sociology and History: The Contemporary Discussion.
Part II. On the Methodology of General Theories of Social Action:.
3. Normative-Analytic and Empirical-Analytic Approaches to Social Science.
4. Intentional Action and Stimulus-Response Behaviour.
5. Three Forms of Functionalism.
Part III. On the Problem of Understanding Meaning in the Empirical-Analytic Sciences of Action:.
6. The Phenomenological Approach.
7. The Linguistic Approach.
8. The Hermeneutic Approach.
Part IV. Sociology as Theory of the Present:.
9. The Limits of Linguistically Oriented Interpretive Sociology.
10. Open Questions.
Notes.
Index.
'
On the logic of the Social Sciences
is a fine tribute to the care with which Habermas prepared his [intellectual] expedition. His survey of the literature of social scientific theory is inclusive and incisive.'
Times Higher Education Supplement
'The vision of this book remains powerful and there is still much to be learned and gained from this, one of Habermas's most accessible, practical, and relevant texts.' Environment and Planning
This book is new in paperback
Habermas approaches the distinction between social and natural science in a unique and perceptive way
Habermas is widely regarded as the greatest living social and political theorist.